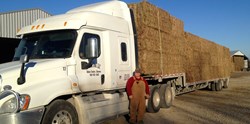 We estimate we're saving ten or more gallons per day with Idle Smart.
Leawood, Kansas (PRWEB) December 17, 2013
Idle Smart, the provider of a patented idle reduction solution designed to save fuel for fleets and drivers, today announced that Ibbetson Brothers, a farm and trucking operation in Yates Center, Kansas, is realizing fuel saving and other benefits from its use of the company's solution. Ibbetson Bros. is installing Idle Smart in four trucks used to haul hay to dairies and feedlots, and other commodities in over-the-road specialized, flatbed and heavy haul transportation service.
"We've already seen a payback on our first Idle Smart unit," said Rick Sievers, a driver for the company. "In the summer, we estimate we're saving ten or more gallons per day, six days a week with Idle Smart compared to idling the truck. Even at 50 gallons per week in reduced fuel consumption that can save us $200 weekly.
"Along with fuel savings, Idle Smart also eliminates any cost for maintenance on an APU, doesn't add weight to the vehicle, and it's very simple to program and use," Sievers added. "You just turn it on and go, and any issue with noise when the engine starts is more about the engine. In some trucks you don't even notice."
"Based on the performance of our first Idle Smart unit on a Volvo tractor we're purchasing three more for a 2006 Freightliner, a new Kenworth, and a 2014 Freightliner. We ran into a hurdle with the newest Freightliner because its design was different, but Idle Smart stayed on it. They kept us informed as they addressed the issue, and quickly made sure it would work correctly."
One of the newest features of Idle Smart is a design that enables the solution to be implemented more easily on every 2007 and newer truck make and model, and it can be easily moved to new vehicles in the fleet. Additionally, Idle Smart Fuel Optimization Software now utilizes a new algorithm that determines when to automatically turn off the unit, saving unnecessary idling if the system is left on when the driver is not in the vehicle.
Idle Smart continuously monitors interior and ambient temperatures and starts and stops a vehicle to maintain desired cabin temperature and reduce fuel consumption. Fully customizable and password protected, programming temperature and timer settings with the Idle Smart solution is easily accomplished using the unit's intuitive display and menu driven format.
"We're hearing from more customers like Ibbetson Bros. about the value they are receiving from their investment in Idle Smart," said Ryan Bennett VP, Product and Marketing. "Many of our latest enhancements are the result of feedback from fleets and drivers who are using Idle Smart to realize a reduction of up to 70 percent from our fuel saving solution."
About Idle Smart
Founded in 2007 and headquartered in Leawood, Kansas, Idle Smart is the developer and provider of a patented idle reduction solution designed to save fuel for fleets and drivers. The only engine start/stop solution that starts and stops engines automatically based on cabin temperature preferences, Idle Smart is backed by a Lifetime Product Warranty and a 100% Money Back Guarantee. Idle Smart is a proud supporter of Hope for the Warriors®.
For more information: http://www.idlesmart.com.
Media Contact:
Susan Fall
LaunchIt Public Relations
858-490-1050
susan(at)launchitpr(dot)com
http://www.LaunchItPR.com