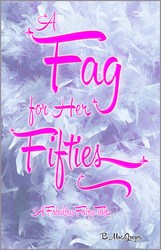 What happens when you turn a definition on its head? You get a book like B MacGregor's "A Fag for Her Fifties."
(PRWEB) January 21, 2014
In B MacGregor's debut novel "A Fag for Her Fifties" the author uses his pen to wage war on a word once used to belittle his sexual orientation. MacGregor's publisher, AnyWho Editions, has posted a new review commending the author's battle to turn a word - and its definition - on its head.
At the heart of the novel is a strong, contemporary friendship. The timing could not be better according to MacGregor's publisher, Lori Lott, at AnyWho Editions. "Society is celebrating the emotional courage associated with coming out."
"A Fag for Her Fifties" motivates readers to open their closets and live loud and proud. MacGregor penned the novel to emphasize his pride as a gay man, willing to stand up for being the best he can be. His unique style weaves a fabulous spin on a classic fairy tale into each chapter, creating an entertaining adventure of self-discovery. "Being a Fag empowers change. It takes strength to come out of the closet and resolve to redefine a hateful word," he said.
The review commends MacGregor and his courage to question what's in a word - and a story, stating he "Used the novel as an outlet to show off his pride of being a gay man, after being belittled for his sexual orientation for many years. He was labeled a fag in high school and didn't like it.
"While many homosexuals stand aside and grumble at their stereotyping, MacGregor has a weapon to wage war on words: a pen. As an author, he can rewrite history if he wants to, and that's just what he does in "A Fag for Her Fifties" – he turns "fag" into "Fag," a deliciously flamboyant fairy godmother-like gay man who parades his Fag-aliciousness with pride and changes one woman's life for the better with the flick of his sequin-covered, pink boa-lined wand."
Read the complete article at bmacgregorauthor.com.
"A Fag for Her Fifties" is available in both print and electronic editions. E-books can be purchased at Amazon, Barnes and Noble, iBooks Store and other venues. To purchase a print edition directly or to find a bookstore, visit AnyWho Edition's website, anywhoeditions.com.
# # #
Contact Lori Lott, Publisher, AnyWho Editions at llott(at)anywhoeditions(dot)com to arrange an interview with B MacGregor, to obtain high-resolutions images, and for additional information. Review copies available upon request.
Title: A Fag for Her Fifties – A Fabulous Fairy Tale
Book Site: bmacgregorauthor.com
Author: B MacGregor
Author Site: bmacgregorauthor.com
Publisher: AnyWho Editions
Contact: Lori Lott, Publisher
Company Site: anywhoeditions.com
E-mail: llott(at)anywhoeditions(dot)com
Print ISBN: 978-0-9833058-2-8
E-Book ISBN: 978-0-9833058-3-5
Page Count: 262
Retail Price: $17.95 (print), $8.99 (electronic)
Release Date: September 30, 2013
Facebook: facebook.com/BMacGregorAuthor
AnyWho Editions on Tumblr anywhoeditions.tumblr.com
AnyWho Editions on Twitter twitter.com/AnyWhoEditions