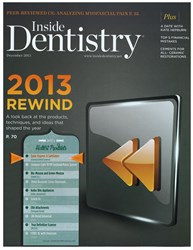 I prefer SafeSiders whole-heartedly. Rotary files separate VERY easily. SafeSiders do not.
South Hackensack, New Jersey (PRWEB) December 19, 2013
With thousands of dental products for dentists to choose from, Essential Dental Systems (EDS) Endo-Express Reciprocating Handpiece and SafeSiders Reamers take the cake as the #1 Hottest Product of 2013, according to Inside Dentistry.
As the leader in reciprocation, Endo-Express users don't fear instrument separation or dentin micro-fractures. SafeSiders reamers are designed with a patented flat to: create more efficient cutting, reduce engagement for faster advancement, and increase instrument flexibility without sacrificing strength. It's no wonder the Endo-Express reciprocating system was named this year's Hottest Product.
For more information, please visit our website http://www.edsdental.com.
To schedule a free in-office demo, please visit http://www.edsdental.com/demo/.