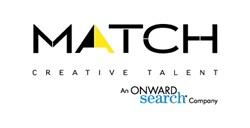 "Uniting these two brands will create one of the largest and most experienced recruitment teams on the West Coast and strengthen the opportunities available to the area's digital marketing and creative talent." -Kevin Clark, CEO and Co-Founder of OGH, LLC
Wilton, CT (PRWEB) December 16, 2013
Onward Search, the nation's leading provider of staffing solutions for digital marketing, creative, and technology talent, announced the completed acquisition of Match Creative Talent, a Los Angeles based staffing agency specializing in connecting creative, marketing and business-support professionals with opportunities in the advertising, marketing, entertainment, corporate, and design industries.
Match Creative Talent was founded in 1999 and is comprised of former advertising, marketing and entertainment-industry professionals, who have deep roots in the industries they staff. The company works with many of Hollywood's top entertainment and production companies, as well as Fortune 500 companies, and Los Angeles' top digital agencies.
"We are excited to be bringing Match Creative Talent's staff, candidates, and clients to the Onward Search family," stated Kevin Clark, CEO and Co-Founder of OGH, LLC, Onward Search's parent company. "Uniting these two brands will create one of the largest and most experienced recruitment teams on the West Coast and strengthen the opportunities available to the area's digital marketing and creative talent."
OGH, LLC is a national provider of workforce solutions in the technology and healthcare sectors, and backed by Welsh, Carson, Anderson & Stowe, a specialized private equity firm that manages $20 billion of total capital in the information/business services and healthcare industries. Onward Search is one of five businesses within the OGH, LLC portfolio. It is headquartered in Wilton, CT with eleven nationwide offices servicing Fortune 500 companies, mid-sized businesses, and full scale agencies.
"This is a great moment for both organizations," added Ryan Hudock, President of Onward Search. "The Match Creative team will be able to utilize Onward Search's experienced operational support team and financial backing to expand their business over the coming years, while the Onward Search team will be able to offer our candidates additional job opportunities in the Los Angeles market through the Match Creative network of clients."
"We are thrilled to become part of the fastest growing staffing agencies within our industry," said Sydney Slosson, President of Match Creative Talent. "The ability to leverage Onward Search's existing resources and support staff will give us the opportunity to accelerate our current momentum and drive tremendous growth in our staffing efforts for 2014."
Onward Search plans to operate Match Creative Talent as an Onward Search company and keep the company's office located in Los Angeles, CA.
About Onward Search
Onward Search is the nation's leading staffing agency for digital marketing, creative, and technology talent. We offer a full range of recruitment and staffing solutions to include contract staffing, permanent placement, and executive search. Onward Search is headquartered in Wilton, CT with regional offices in Atlanta, Austin, Boston, Chicago, Dallas, Houston, Los Angeles, New York City, San Francisco, Silicon Valley, and Washington, D.C. The company is part of OGH, LLC, a national provider of workforce solutions in the technology and healthcare sectors. We can be found online at onwardsearch.com, on Twitter at twitter.com/onwardsearch, or on Facebook at facebook.com/onwardsearch.
Media Contact:
Steve Dobrowski
VP, Marketing
Onward Search
203.834.3076
sdobrowski(at)onwardsearch(dot)com