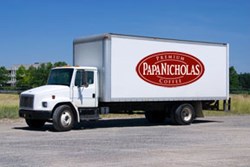 we look forward to providing improved customer service through technology enabled processes.
Chicago, IL (PRWEB) December 18, 2013
The PapaNicholas Coffee Company has recently launched a new Mobile Cloud Computing application to support their Direct Store Delivery (DSD) operation. DSD is an established method of selling and distributing products. It is prevalent in the wholesale Food & Beverage industry. PapaNicholas Coffee has been operating as a DSD provider for more than 28 years. They sell a wide variety of coffee and coffee related products to grocery stores; restaurants; and business offices that are located in major metropolitan areas.
Historically, Direct Store Delivery is a very form driven and paper intensive business. This is no longer true for PapaNicholas Coffee and their customers. Instead of multi-part order forms, their new DSD system puts Tablet Computers in the hands of their Route Sales Representatives (RSRs). The new mobile devices perform a number of distributed functions, including, Customer Lookup; Product & Pricing Lookup; as well as Order Processing. Customer Orders can be created, reviewed and authorized in seconds with order transactions communicated back to their corporate offices via the Cloud. In certain cases, customers can obtain a hardcopy of their order by the use of a mobile printer.
According to Eric Latsch, Manager of PapaNicholas DSD Operations, "We look forward to providing improved customer service through technology enabled processes. Our new mobile DSD applications should improve the accuracy of our customer orders and shorten the overall order cycle times." Mr. Latsch also asserts "an additional benefit to our company, supported by the new technology, is to assist in managing our finished goods inventory on a real-time basis."
About [PapaNicholas Coffee Company
The PapaNicholas Coffee Company is a privately owned coffee producer established in 1982. The current business operation and manufacturing facilities are located in a suburb of Chicago, Illinois. The Papanicholas family is deeply rooted in coffee. With more than one hundred years of experience and three generations working in the coffee industry, PapaNicholas Coffee provides the highest quality coffees and espressos available. Additional information can be found by visiting their on-line store at http://www.papanicholas.com.