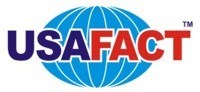 "We wanted to take this opportunity to refresh the general USAFact company brand with a new look,"- Matt Davidson
Denver, CO (PRWEB) December 17, 2013
USAFact, a leading nationwide provider of pre-employment background screening services for more than 36 years, will soon be unveiling a new digital brand on the Internet.
"We wanted to take this opportunity to refresh the general USAFact company brand with a new look," said USAFact Chief Executive Officer Matthew Davidson. "It's an update that will really resonate well with our renewed business focus and strategy."
The company is working directly with A Sullivan Studio's owner, Dara King, to recreate the main company website. The agency is reviewing different types of layouts, platforms and technology solutions to develop a more modern look with added functionality.
"The new website leverages our brand identity and adds some new updated touches," Erik Dahlen Market Development Manager said. "It creates new, unique web identities for all of our primary product lines."
The product lines gaining facelifts will be USATenant.com, the very successful but lesser-known tenant screening division of USAFact . . . and RapidFACTOnline.com, showcasing an entirely new service platform for USAFact's Drug Testing and Employment Background Screening services. All of these product lines and ordering platform upgrades will be showcased within an entirely redesigned, mobile optimized, and user friendly company website at http://www.USAFact.com.
"USATenant.com services have always been a successful, but small division within our company. In 2014 we will be defining all of our product lines specifically, so that they are sure to catch attention and grow," Davidson said. "We see this division as a very important growth engine for the company. And, with the launch of so much improved technology at USAFact, we knew it was the perfect opportunity to also brand our Employment and Drug Screening Services as specific divisions of the overall company as well."
The new websites are set for launch in the first quarter of 2014.
About USAFact, Inc.
Successfully operating in the background investigation field for over 35 years, USAFact has been recognized as the hiring solution provider which delivers the most accurate, up to date, and thorough background screens in the industry. As a leading online pre-employment screening service, USAFact combines the latest Internet technologies with the expertise of an experienced professional staff to deliver a proven resource to thousands of clients, processing thousands of reports daily. Offering a variety of screening packages for businesses of any size, from the small non-profit to Fortune 500, USAFact provides services custom-tailored to their individual needs.
For additional information on USAFact's products and services please visit http://www.usafact.com, or call (800) 547-0263.