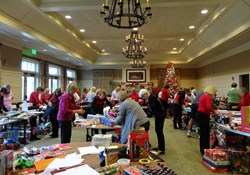 Award Winning Coastal South Carolina Communities
Bluffton, SC (PRWEB) December 17, 2013
Santa Claus is making a list and checking it twice in a remarkable Bluffton SC private golf community. This year Santa is going to find out which Colleton River Plantation volunteers have been naughty or nice during the community Operation Santa Claus Program. The fact is the volunteers have all been extraordinarily nice over the past years raising over $100,000 dollars for kids toys at Christmas. Their compassionate hearts won Colleton River Plantation Real Estate Scorecard's first Commendables Award.
Last year, Operation Santa Claus was comprised of more than 1,400 volunteers and raised a significant amount of money for the cause. Many of the Colleton River Plantation residents were volunteers and helped the program raise approximately $34,000 last Christmas season. This year, they've raised the bar raising $42,000 for kids. The Colleton River Plantation volunteers donated their time and efforts to raise money to aid mentally compromised children and adults during the holidays. Holiday presents were purchased, wrapped and delivered to 310 families in the area and this Bluffton SC private golf community helped make a very merry Christmas to people inside and outside Colleton River Plantation.
Currently celebrating its 13th Anniversary, the non-profit 501(c)(3) program Operation Santa Claus is bigger than ever at Colleton River Plantation. The community is thrilled to give back to local charities and nonprofit organizations every year and it keeps getting better. Colleton River Plantation volunteers are active with Bluffton's Habitat For Humanity program. Overall, they raised more than $125,000 for the nonprofit organization to help build a new Hilton Head community named, The Glen. From financial aid to hands on construction, this gated community knows what it means to work hard and give back. It is no surprise why this Bluffton SC private golf community won the 2013 Commendables Award from Real Estate Scorecard.
While the community is greatly involved with charity events, there are more activities available for individuals and families looking to relocate to Bluffton, South Carolina. Colleton River Plantation is known for its stunning golf courses and rightfully earned a reputation for being simply.. exceptional. Golf Magazine helped create a buzz about the athletic excellence by naming two Colleton River Plantation courses in the Top 100 Greatest Courses in the U.S. Scenes from The Legend of Bagger Vance were filmed on these golf courses and visitors have discovered that the Colleton River Plantation community is more than picture perfect in person.
Along with the Commendables Award recognition and as home to elite golf courses, this gated community has much more to offer relocating retirees and families. Colleton River Plantation offer a 6,000 sq. fitness center and spa, exclusive tennis courts, guest accommodations, business center, and plenty of activities necessary to maintain a healthy mental, emotional and spiritual balance. The gorgeous natural surroundings and laid-back atmosphere is more than enough to convince anyone interested in relocating to a new place for retirement.
While Santa is busy helping Colleton River Plantation with fundraising, buyers looking for an extraordinary gated golf community in Bluffton should take a look at Colleton River Plantation.
Call Johnny Ussery of Gateway Realty direct to schedule a tour at 843.757.7710.
About Real Estate Scorecard:
Real Estate Scorecard writes unbiased real estate reviews providing in-depth information about popular gated communities in Florida, Georgia, North Carolina, South Carolina and Tennessee, all in an effort to help people discover where to retire in the Southeast.
Website: http://realestatescorecard.com