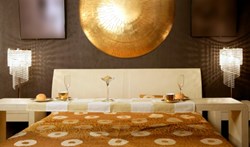 An individual's profession need not be that of architect or interior designer to develop a personal home style.
San Francisco, CA (PRWEB) December 17, 2013
In each individual is a place that harbors the thoughts of the ideal personal haven for shelter, relaxation, entertainment and creativity. The harbored dream might be to live in a modern house with straight, simple lines that support great panes of glass; a simple home built on a cliff that overlooks the sea. Perhaps this modern style dream home is made from a construction style that has yet to be built. How far does this inner self dare to dream? Often the details of these dreams are of a sketchy nature. At some point, it's important to fill in the broad strokes with the finer details that will make the personal haven a reality. There are many factors to consider when making the selections that will define the dream. Is this home a structure so lavish that only the earth's finest elements will suffice as the finish materials? Or is the design of the structure an example of perfect simplicity in architecture? Transform the imagination by visualizing the color, texture, patterns and sizes of the floor, walls, and ceilings; even create a unique shape for the roof. Then commit these ideas to paper for a style file or journal. Design a haven with a ground breaking architectural style if that is what is envisioned; dazzle the neighborhood with a marvelous exterior finish; wow the family with an interior so colorful or creative that the design will enchant forever. The home may be a studio apartment or a mansion. What matters is to try to understand what the elements are that make the dream a reality.
Why surrender this personal vision simply because the home is a rental or an apartment? There are rich opportunities to collect color or textural samples that define the architectural details of these dreams. Watch for images to collect of the furniture and décor that capture the spirit of these innate ideas. As the details of a personal style develop on paper, it's possible to bring these ideas further into fruition. Now is the time to connect with these exact details at a swap meet, in a unique local furniture store or with an experienced antique seller. For example, the personal home dream may be filled with charming, colorful or inventive sculpture or painting. The personal collection must then begin to grow from the earliest awareness of this detail. There are myriad opportunities for collecting unique artworks today. One unique source for fulfillment is Kindachic.com, an online home décor and furnishing retailer.
An individual's profession need not be that of architect or interior designer to develop a personal home style. It's a personal right to develop one's innate vision of home. A professional's ability to develop building techniques into great style does not nullify the ideas and needs of others. Individuals maybe unaware of these deep set ideas until they are viewed as a reality from a movie or television set or suggested in an advertisement. This personal involvement in a dramatic story portrayed on screen, maybe the trigger that unlocks this innate vision. A traveler's imagination maybe captured by the colors and patterns found in a newly visited culture. The photographs and souvenirs from this trip will serve as the foundation for the home design journal. The childhood home is the vision of the parents, and does not have to be carried forward if it differs from one's personal needs. Find a personal solution to develop visualization, design and architectural communication. The challenge involves being true to what is innately perceived.