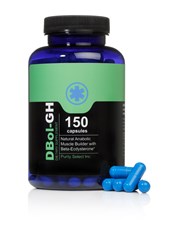 DBOL-GH is a true gem in the bodybuilding supplement world... It simply works.
Boonton, NJ (PRWEB) December 17, 2013
HGH.com is a leader in HGH Supplements, creating new effective and innovative bodybuilding, weight loss, and HGH supplements. Their newest supplement, named DBOL-GH, has quickly become a hot item and boxes are flying out of the HGH.com warehouse daily for people looking to change their body shape and build lean muscle.
Dan Smith from HGH.com said "DBOL-GH is a great muscle building supplement that also can increase your HGH levels. We're very excited about its unique ingredient offerings, which include Bovine Colostrum and Beta-Ecdysterone, amongst others. Both of these ingredients are not only safe and effective, but pretty rare to find, which makes DBOL-GH a true gem in the bodybuilding supplement world." Dan continued "I think it's obvious why it's taken off so quickly and become such a hot seller, it simply works. That mixed with our trainers and athletes getting the word out - people realize our supplements work as advertised. They are examples." Just last week, it was announced that John Hart, professional power lifter, broke a world power lifting record using muscle and bodybuilding supplements created by HGH.com.
DBOL-GH is a unique muscle building supplement that can also help with decreased HGH levels, so it can have positive effects even on older men looking to build lean muscle mass. Further, HGH.com includes a scientific report on the ingredients inside their DBOL-GH. It's now an official best seller on HGH.com Top Sellers list and is shipping out daily. Visit HGH.com for more information, other product offering, community and industry discussions, and customized personal training from the HGH athletes.