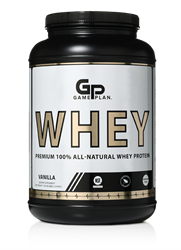 "After only a few days of integrating Game Plan's products, we've seen a tremendous response from our customers."
Boston, MA (PRWEB) December 16, 2013
Game Plan, a line of nutritional supplements sold online exclusively through a network of personal trainers, announced today it entered into a partnership with Squeeze Juicery for all of their Massachusetts locations. [Squeeze Juicery is located inside of three Equinox health clubs].
Squeeze Juicery, an organic and all natural café that features a juice and smoothie bar, is using Game Plan's products, including their high quality whey protein. WHEY by Game Plan is an all natural, hormone free, and high protein to low carb ratio protein.
Squeeze Juicery's owner Sasha Nisenbaum said, "After only a few days of integrating Game Plan's products, we've seen a tremendous response from our customers. We pride ourselves on only having the highest quality ingredients, and Game Plan's products were the perfect fit. "
"Allowing trainers and their clients access to Game Plan in a local market through Squeeze is a profitable way to create awareness to our target market," Game Plan CEO Andrew Bachman stated. "We love providing companies we believe in with the best stuff out there."
Game Plan's products are currently available at Squeeze Juicery's Copley Square and Financial District locations. Game Plan will also be in Squeeze Juicery's new location within the Equinox health club in Chestnut Hill opening this Thursday, December 19, 2013.
About Game Plan
GPLH develops tools and products focused upon the intersection of three important market trends: proprietary nutritional supplements, sold exclusively through personal trainers and other fitness professionals, using online mobile tools. These tools allow our affiliate fitness professionals to coordinate fitness goals with our nutritional supplements at the key points of contact before, during and after workouts and related consultations.
Forward Looking Statements
This release contains "forward-looking statements" that include information relating to future events and future financial and operating performance. The words "may," "would," "will," "expect," "estimate," "can," "believe," "potential" and similar expressions and variations thereof are intended to identify forward-looking statements. Forward-looking statements should not be read as a guarantee of future performance or results, and will not necessarily be accurate indications of the times at, or by, which that performance or those results will be achieved. Forward-looking statements are based on information available at the time they are made and/or management's good faith belief as of that time with respect to future events, and are subject to risks and uncertainties that could cause actual performance or results to differ materially from those expressed in or suggested by the forward-looking statements. Important factors that could cause these differences include, but are not limited to: fluctuations in demand for Game Plan's products, the introduction of new products, the Company's ability to maintain customer and strategic business relationships, the impact of competitive products and pricing, growth in targeted markets, the adequacy of the Company's liquidity and financial strength to support its growth, and other information that may be detailed from time-to-time in Game Plan's filings with the United States Securities and Exchange Commission. Game Plan doesn't undertake, and it specifically disclaims any obligation, to update any forward-looking statements to reflect occurrences, developments, events, or circumstances after the date of such statement.