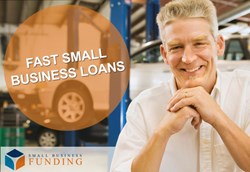 We have seen a large influx of applications from the auto-repair service sector and have fortunately been able to find funding for them.
Bala Cynwyd, PA (PRWEB) December 18, 2013
Varsity Business Solutions, dba smallbusinessfunding.com, is a highly respected business alternative financing portal. When a small business owner is in need of capital and gets turned down by their bank smallbusinessfunding.com is their best alternative. Small Business Funding has a network of lending relationships with the nation's top alternative private lending banks. They are the best source for all business owners who need capital for inventory, new hires, equipment, expansion, working capital, or fast capital in less than 7 days regardless of time in business or credit. Small Business Funding's partnerships rely on business performance and cash flow rather than personal credit score. With this service business owners in all industries can fill out a simple one page form and have a funding specialist contact them to answer any and all questions concerning the alternative lending industry. Once a degree of comfort is established all that is needed are some bank statements and merchant processing statements (if a business accepts credit cards-not required for funding).
Increases In Auto Repair Shop Alternative Financing
According to the 12/6/13 SBA Business loan approval YTD activity for both existing and start-up business loan approvals have declined. This is not a good sign for small businesses in need of capital. While banks are still the best source for business loan rates and terms there continues to be a huge hurdle for small business owners to get funding. So much of their underwriting puts weight on personal credit scores. Alternative lenders do not require good credit. More weight is put on overall business performance, type of business, and cash flow. The automotive repair and body shop industry is one such industry that smallbusinessfunding.com has seen huge success with in providing capital for growth. "We have seen a large influx of applications from the auto-repair service sector and have fortunately been able to find funding for them," says Michael Kevitch President and COO. To date, Varsity Business Solutions has an approval rate of just over 90% for small business applicants. Knowing where to find the right lender for each type of deal is what Varsity Business Solutions knows how to do. This saves everyone's time and provides better rates and terms for the small business owner. An auto service and repair shop has received funding for $125,000 from one of our lenders. Auto service and repair shops continue to be one of the most sought after industries to fund within the alternative lending space.
About The Company
Varsity Business Solutions is a Delaware based LLC located in Bala Cynwyd, PA. They control numerous web properties, including smallbusinessfunding.com, promoting alternative small business loans for businesses owners that have been declined by their bank for funding. With a network of alternative lending partners over 90% of the applicants are approved for alternative funding. To contact please call 1-800-742-2995 or write to mike(at)smallbusinessfunding(dot)com