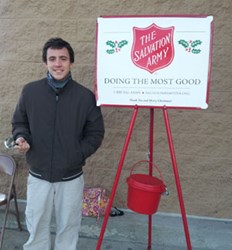 Babylon, NY (PRWEB) December 18, 2013
Antonio Giribaldi, an exchange student, volunteered along with his host family to help the Salvation Army. Antonio stood outside in a shopping complex for hours to raise money.
Antonio came to the US from Italy through International Student Exchange (ISE). He came here to have a new experience while refining his English skills. Antonio settled in very nicely. He joined his football team, became friends with a few people at school and even got to know his new neighbors. He really enjoys it when his extended family visits.
"I have become good friends with my host nieces. They are a lot of fun to hang out with. My host family makes it very comfortable to live here", stated Antonio.
It was his host sisters that got him involved with the Salvation Army. Antonio had volunteered back in Italy with the local Boy Scouts. He said he heard of the Salvation Army before, but never had any interaction with them. His host sisters signed him up to stand outside for hours to collect money.
"It was very cold, volunteering to collect money. In the end, I felt like I really helped some people" explained Antonio.
Antonio plans to do more community service in the future. He's not sure what his next opportunity will be, but he likes giving back to his new community.
"I really enjoy living in the US. I hope to get more involved in my community throughout the year." said Antonio.
About International Student Exchange:
ISE was founded in 1982. It is a non-profit organization dedicated to bringing people of the world closer together through student exchange and intercultural education.
Based on the materials submitted by ISE and reviewed by the Council on Standards for International Educational Travel (CSIET), an independent national educational organization founded in 1984, ISE has been granted a listing every year. Indicative of its high level of professionalism and respect within the foreign exchange industry, ISE is designated by the Department of State as an official sponsor of the Exchange Visitor Program.
ISE is headquartered on Long Island, 60 minutes from Manhattan. Forty-four fully staffed Regional Offices are strategically located in the United States. ISE cooperates with over 100 independent foreign agencies in over 45 countries around the world for the recruitment and placement of students in American homes. The company's information is available at http://www.iseusa.com.