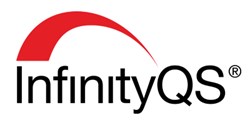 InfinityQS is working with the leading food and beverage organizations to bolster their HACCP, SSOP and traceability systems in preparation for the Food Safety Modernization Act.
Fairfax, Va (PRWEB) December 17, 2013
InfinityQS International, Inc., the global authority on real-time quality and Manufacturing Intelligence, today announced it has been named for the third consecutive year to the Food Logistics' FL100, an annual list of software and technology providers for the food and beverage industry. This recognition acknowledges InfinityQS for excellence in creating the tools and technology necessary to not only improve quality on the plant floor, but also to uncover Manufacturing Intelligence that will decrease costs and help executives make more strategic business decisions.
For the past decade, the editors of Food Logistics have identified software and technology providers that help food and beverage manufacturers, food service distributors, and grocery retailers attain their business goals. The FL100 is comprised of software providers as well as equipment and technology companies whose products and services play a significant role in food and beverage supply chains.
"The groundswell of interest in software and technology tools affirms the value associated with investing in solutions that boost visibility in the food and beverage supply chain, enhance collaboration, improve regulatory compliance and support sustainability goals," remarks Lara L. Sowinski, editor-in-chief of Food Logistics. "New technology-related products and services combined with better affordability are leveling the playing field for a variety of food related companies, while supporting expansion of the cold chain into developed and emerging markets alike."
Michael A. Lyle, president and CEO, InfinityQS, said, "InfinityQS is working with the leading food and beverage organizations to bolster their HACCP, SSOP and traceability systems in preparation for the Food Safety Modernization Act. By being proactive about transforming large amounts of quality data into actionable intelligence, these companies are actually going beyond the regulatory requirements to drive operational efficiency improvements that ultimately lead to gains in profitability."
InfinityQS ProFicient Manufacturing Intelligence Hub, powered by a statistical process control (SPC) engine, provides manufacturers with the tools needed to unlock the full potential of quality data. Data analysis tools such as root cause analysis, box and whisker charts, and Pareto charts help to uncover Manufacturing Intelligence while the latest version of the software, ProFicient 5.1, allows manufacturers to utilize already collected quality data to calculate and analyze Overall Equipment Effectiveness (OEE) to improve machine efficiencies.
After receiving applications from end users and software and technology providers, the editorial staff reviewed over 155 submissions to compile this year's list. Companies who earned a spot on the FL100 list are featured in the November/December 2013 issue of Food Logistics, as well as online at http://www.foodlogistics.com.
About Food Logistics
Food Logistics is published by Cygnus Business Media, a leading diversified business-to-business media company. The publication serves the information needs of executives involved in various aspects of the food and beverage supply chain. Through our print and online products, we provide news, trends, and best practices that help more than 24,000 grocery and foodservice suppliers, distributors, and retailers make better business decisions. Visit us online at http://www.foodlogistics.com.
About Cygnus Business Media
Cygnus Business Media is an internationally recognized business-to-business media company. Our diverse portfolio serves 15 market categories with print and interactive products, and live events. Through our media, we reach more than 1.7 million print subscribers, nearly 1 million industry professionals via our Custom Marketing services, and we attract almost 2 million unique visitors to our Web sites each month.
Combined with the thousands of business people attending our live events, Cygnus Business Media can provide comprehensive, integrated advertising and marketing programs. Cygnus can help you establish and enhance your brand, increase awareness, generate sales leads, and strengthen your customer relationships. For more information on how Cygnus Business Media can help you achieve your advertising and marketing objectives, please contact your Cygnus sales representative, or visit http://www.cygnusb2b.com.
About InfinityQS International, Inc.
InfinityQS International, Inc.® is the global authority on Manufacturing Intelligence and enterprise quality. The company's Manufacturing Intelligence platform, ProFicient, delivers real-time visibility from the shop floor, across the enterprise and into the supply chain, allowing top manufacturers to take control of quality. Powered by a centralized statistical process control (SPC) analytical engine, ProFicient manufacturing quality software leverages Manufacturing Intelligence to help global manufacturers improve product quality, decrease costs, maintain compliance and make smarter, data-driven business decisions. Headquartered in Fairfax, Va., and founded in 1989, InfinityQS now services more than 40,000 active licenses with over 2,500 of the world's top manufacturers including Kraft Foods, Ball Corporation, Boston Scientific, Graham Packaging and Medtronic. For more information, visit http://www.infinityqs.com.
# # #