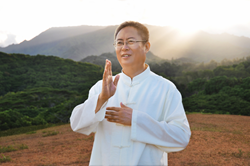 San Francisco, CA (PRWEB) December 21, 2013
The Founder of Soul Mind Body Medicine™ and bestselling author Dr. and Master Zhi Gang Sha invites thousands around the world to his annual New Year's Eve Blessings via a complimentary global teleconference live from China to teach others how to express gratitude to the Divine for the blessings received in 2013, to request blessings for 2014, to offer service to humanity, and to offer special gifts for more love, peace, harmony and success in all areas of life in 2014. Master Sha will lead a worldwide spiritual ceremony December 31, 2012, beginning at 11:00am Pacific time zone. Individual participation for Dr. and Master Sha's New Year's Eve Blessings teleconference is free with registration available on http://www.DrSha.com.
Dovetailing 15 days of continuous chanting for the World Love Peace Harmony Global Teleconference, Master Sha's New Year's Eve Blessing teleconference is expected to bring together thousands of people from more than 50 countries. Master Sha's extraordinarily uplifting one-hour spiritual ceremony is the perfect gift to share with loved ones and friends, while finishing the last few hours of 2013 together. During Dr. and Master Sha's New Year's Eve Blessings teleconference, he will lead individuals to chant to create love, peace and harmony and will bestow soul blessings to humanity, all souls, all animals, Mother Earth and all universes.
These blessings can transform individuals' lives, including energy, stamina, immunity; healing for the spiritual, mental, emotional and physical bodies; preventing all sickness; purifying and rejuvenating soul, heart, mind, and body; transforming all kinds of relationships from business to personal to mending family issues; increasing intelligence; and bringing success to every aspect of life. During the global teleconference, Dr. and Master Sha will thank the Divine, Tao and Source for their blessings for 2013 and offer participants priceless spiritual gifts from Heaven for success, happiness and health in 2014:
These treasures carry Divine frequency and vibration of love, forgiveness, compassion and light to offer healing, blessings and transformation. They become yin companions for life and offer the recipient healing of relationships, finances, physical, spiritual, mental and emotional bodies. For the special New Year's Eve blessing – registered recipients will receive downloads that gift them with Divine love, forgiveness, compassion, light, gratitude and success – all golden keys to accelerating the healing and spiritual journey and helping to create love, peace and harmony for humanity and Mother Earth in the new Soul Light Era.
Dr. and Master Sha's New Year's blessings teleconference begins on Tuesday, December 31 at 11:00 am PST (check the registration for global time zones). All individuals must register before this time to take part in Master Sha's very special New Year's Eve ceremony. To register for the free Dr. and Master Sha's New Year's Eve blessings teleconference and the Chanting 24/7 for World Love, Peace & Harmony Global Teleconference, plus learn more about the renowned Soul Leader Dr. and Master Zhi Gang Sha, go to http://www.DrSha.com.
Master Zhi Gang Sha is the soul leader, a world-renowned master healer, and a divine servant. He is the founder of Soul Mind Body Medicine™. He was trained as a conventional medical doctor and a doctor of traditional Chinese medicine. The founder of the Institute of Soul Healing and Enlightenment™ and the Love Peace Harmony Movement™, Master Sha is a grandmaster of many ancient disciplines, including tai chi, qigong, feng shui, and the I Ching. Master Sha is also an expert in the most advanced cellular healing science now occurring in China. In the West, he is involved in breakthrough research on the effects of spirit on the human system. Dr. Sha was named Qigong Master of the Year at the Fifth World Congress on Qigong. In 2006, he was honored with the prestigious Martin Luther King, Jr. Commemorative Commission Award for his humanitarian efforts.
Dr. and Master Zhi Gang Sha has more than 100,000 followers on Facebook and more than 250,000 devotees worldwide. There are more than 1,000 Soul Healing Miracle videos posted on Dr. and Master Sha's YouTube Channel (http://www.youtube.com/zhigangsha), with over 1.1 million views. Everyday people all over the world are experiencing personal Soul Healing miracles and sharing their video testimonials so that others can benefit from these powerful and life-changing results. His blog, http://mysoulhealingmiracles.blogspot.com/ is read by thousands worldwide and legions of people attend his daily LiveStream events at http://new.livestream.com/drandmastersha.
Master Sha is author of more than 10 books published by Simon & Schuster (Atria Imprint) and his newest book, Soul Healing Miracles (BenBella Books) was published November 11, 2013 debuting on USA Today, Wall Street Journal and Amazon bestseller lists. Dr. and Master Sha's most recent New York Times bestselling book, Divine Healing Hands (September, 2012) topped national bestseller lists within 24 hours of publication and his 2011 book, Tao Song & Tao Dance was also a New York Times bestseller. All of Dr. Sha's Soul Power books, DVDs and CDs, reveal soul secrets, wisdom, knowledge and practical techniques to transform every aspect of life, and are bestsellers throughout the world. Visit Dr. Sha on his website http://www.DrSha.com and http://www.facebook.com/DrandMasterSha to receive free daily Divine Healing Hands blessings via webcasts, teleconferences and in-person at events held throughout the world.