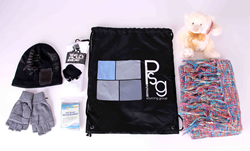 "We're on a renegade mission with these 'Love Packs' to engage with our fellow man and give individuals the opportunity to live outside themselves." - John Putnam
Los Angeles, CA (PRWEB) December 17, 2013
CEO & Founder of Putnam Accessory Group (PAG) and Creator of hot streetwear accessory brand Original Chuck, John Putnam, is helping everyone enjoy the 2013 holiday season by delivering hundreds of Putnam Care "Love Packs" all over Los Angeles as Random Acts of Kindness to those less fortunate. Whether it's someone sleeping outside on the sidewalk or someone asking for spare change outside the local grocery store, the "Love Pack" is inspiring hope over this holiday season.
The "Love Pack" includes a cinch sack that will hold the essentials: a beanie, a scarf, gloves, a pair of socks, and a water-resistant, multi-use blanket for warmth and shelter as well as a stuffed animal to bring a smile to someone's face. All of the items are unused and would have been discarded cast-offs from all of the different clothing lines Putnam's company manufactures for. Members of the Putnam Accessory Group will hand out the packs spontaneously to those who look in need of a little warmth this holiday season.
"The Putnam way is an impulsive call of action to provide care to those in need," said Putnam. "We're on a renegade mission with these 'Love Packs' to engage with our fellow man and give individuals the opportunity to live outside themselves."
Anyone can get involved with the Putnam Care "Love Packs" by contacting PAG through their website. Individuals and/or companies can donate excess goods to include in the "Love Pack" as well as purchase "Love Packs" for $20 to give to those in need.
For more information on Putnam Care "Love Packs," and John Putnam, please visit http://www.johnputnamltd.com.
To speak with John Putnam, or for press purposes, please contact: Jenn Deese, Melrose PR, jenn(at)melrosepr(dot)com, (310) 260-7901, http://www.melrosepr.com
About John Putnam:
Talented entrepreneur, trendsetter and industry pioneer, John Putnam has evolved his company, Putnam Accessory Group to new levels of success over the past 20 years. Today Putnam Accessory Group is the industry leader in accessory design, product development, merchandising, marketing, production and logistics for private label brands and worldwide licensing. Having seen the enormous success of his private label products in the marketplace, Putnam was inspired to create his own brand, Original Chuck. Influenced by originality and independence, and driven by non-stop innovation, flawless execution and timeless style, Original Chuck headwear is the new industry classic.
###