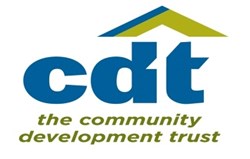 New York, NY (PRWEB) January 07, 2014
The Community Development Trust (CDT), the country's first and largest private real estate investment trust (REIT) which provides capital for the preservation of affordable housing, today announced that it has successfully closed on a $44.5 million private placement offering. Its fourth capital raise since its inception, this offering by CDT involved the issuance of 5.00% Cumulative Redeemable Preferred Shares to nine investors. The organization will use these funds to advance their work of preserving and expanding affordable housing nationally through mission-driven investments. A portion of the proceeds will also be used to provide liquidity to investors in CDT's common stock.
The companies participating in this capital raise included both existing investors and new investors.
Existing investors included:

Citicorp USA, N.A.
HSBC Bank USA, N.A.
The Prudential Life Insurance Company of America
Wells Fargo Community Investment Holdings LLC
New investors included:

BNY Mellon
Boston Private
Capital One Community Development Corporation
Morgan Stanley
PNC Bank Community Development Corporation LLC
"We are demonstrating that there is a market for a variety of financial investment alternatives secured by community development assets, where investors can receive adequate returns while supporting vital social goals," said Joseph Reilly, President and CEO of CDT. "CDT is proud to be receiving investments from these partners and eager to put the funds toward the expansion and preservation of the country's supply of high-quality, affordable housing."
With a 15-year track record of providing long-term capital for community development, CDT has helped finance all types of affordable housing developments, including Section 8 properties, HOPE VI public housing redevelopments, and phased developments. Most recently, CDT purchased and began rehabilitation on Ocean Towers, a 360-unit property in Coney Island, with partner Proto Property Services (Proto). The purchase not only allowed CDT to preserve the affordable nature of housing units that were at risk of losing affordability, but also allowed the organization to rebuild and make more resilient a property that was hit particularly hard by Sandy.
CDT also recently received a term sheet for $125 million in bonds from the United States Department of the Treasury through its Community Development Financial Institutions Bond Guarantee Program (CDFI Bond Guarantee Program). CDT received the largest portion of the program's initial allocation of $325 million.
About CDT
CDT is the country's largest private real estate investment trust with a focus on providing capital for the preservation of affordable housing. Working with local and national partners, our organization makes long-term equity investments in affordable housing and both originates and purchases long-term mortgages which support the development and preservation of affordable housing. After more than fifteen years of operations, CDT has provided over $950 million in debt and equity capital to properties in 42 states – helping to preserve and create more than 33,000 units of affordable housing. CDT is an approved Fannie Mae affordable lender, a member of the Federal Home Loan Bank of New York, and a certified CDFI.