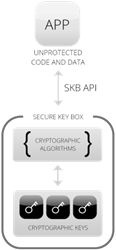 Now financial institutions and other businesses can leverage the latest in white-box technology to protect their Java apps
Sunnyvale, CA. (PRWEB) December 17, 2013
whiteCryption, a leading provider of software code and data protection, today introduced Cryptanium™ Secure Key Box for Java (SKB for Java). SKB for Java leverages whiteCryption 's proven security toolset to provide protection for Java apps running on leading mobile operating systems such as Android.
Secure Key Box for Java is a library that implements Cryptanium's Secure Key Box (SKB) API, providing an extensive set of high-level classes and methods for operating with the most popular cryptographic algorithms, such as AES, RSA, DES, and many more.
One weakness in cryptographic algorithms is that in today's open architectures, such as smartphones, tablets, and desktops, cryptographic keys are revealed in the code or in memory at some point during execution. Without efficient key protection, hackers can monitor devices with special analysis tools and extract the secret keys.
whiteCryption's white-box technology ensures that secret keys stay encrypted, even during execution, and even during use.
"Following our very successful white-box implementation for C and C++, customers have been asking us to provide the same functionality for Java," said David Maher, President of whiteCryption. "I am very excited to announce that we provide this additional level of support to Java programmers today. They can now leverage decades of cryptography research as well as our latest implementation, which has been proven and used successfully for several years."
SKB for Java is an innovative white-box protected library specifically designed to protect cryptographic keys in financial applications, games, enterprise apps, and other types of sensitive software.
SKB for Java provides the same level of security for Java applications that SKB does for native applications written in C/C++. It comes with an SKB JCE Provider implementation that supports Java versions 6 and 7.
Availability: Cryptanium Secure Key Box for Java is available now.
Register today for a free trial at http://www.cryptanium.com/register.
About whiteCryption
whiteCryption is a leading provider of software code protection and white-box cryptography products. whiteCryption is an Intertrust company that supplies its patented technologies to the world's leading software, hardware, and content companies. For further information, visit http://www.cryptanium.com.