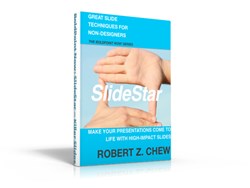 SlideStar gives you the secrets designers know and use everyday. You can be a master slide designer after you read this easy to follow book and it's free, but not for long.
Los Angeles, CA (PRWEB) December 20, 2013
BoldPoint Now announced today it will give away its slide design eBook, SlideStar, at no cost through January 1, 2014.
BoldPoint Now, the most comprehensive online presentation training system available, is making this limited time offer in order to help "everyone become the most powerful presenter they can be in 2014," said the company's founder, Robert Chew, in announcing the offer.
The eBook, SlideStar: Slide Design Secrets for Non-Designers, is designed, written, and illustrated to make slide design fast, easy, and high-impact. The techniques do not require any design experience or expertise. SlideStar is in full-color with over 100 pages of examples, and offers easy to follow instructions on how to create great slides from start to finish, whether in PowerPoint or Keynote, or any presentation software.
"Most presenters worry over the quality and design of their slides, but next year anyone can become a master slide designer easily and overcome this fear when speaking, and it's free," said Chew. BoldPoint Now offers online courses, live workshops, and executive presentation and sales coaching. The free SlideStar giveaway is good through January 1, 2014.
SlideStar is the last module of the three-part BoldPoint Now Presentation Training System available online or in live training courses. The first training component, "Point of You," teaches individuals how to create a unique point of view, or critical message. The second component, StoryPilot, teaches individuals how to take their unique point of view and build into a classic three-part story.
To get SlideStar download go to: https://2a968f.campgn5.com/SlideStare-Free-Book-Promo
The design tips and techniques found in SlideStar are structured to offer real-world, practical tips on how to make text, data, and image-heavy slides come to life and appeal to audiences, according to Chew.
The book is written and illustrated specifically for businesspersons or individuals who need to create high-impact slides to accompany presentations, sales pitches, or speeches. SlideStar, StoryPilot, and Point of You eBooks are available for sale on Amazon.com, Barnes & Noble online, and Apple's iBookstore, as well as other online bookseller websites.
"The BoldPoint Now System is designed for anyone, at any level, and our approach is to be a fast, easy way to learn professional presenting from the convenience of your own home," said Chew. "BoldPoint Now offers tools for powerful, effective presenting while at the same time helping overcome public speaking fears and demonstrating how to engage with audiences."
The BoldPoint Now online training program features over eighteen interactive videos, three books, workbooks, and templates, and support. For more information go to http://www.boldpointnow.com.