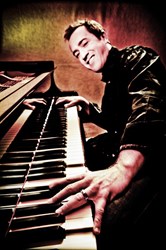 ...Geoffrey Keezer commands the attention typically reserved for the living legends of jazz.
Aliso Viejo, CA (PRWEB) December 18, 2013
Highly acclaimed pianist Geoffrey Keezer will perform a solo recital as part of the Jazz Monsters Series at Soka Performing Arts Center on Friday, February 21, 2014 at 8:00 p.m. Tickets are $28 for adults and $21 for students and seniors aged 62 and above. Purchase tickets online at performingarts.soka.edu or by calling 949-480-4ART (4278).
With his highly regarded discography, unique compositions and acclaimed performances in a variety of configurations, pianist Geoffrey Keezer commands the attention typically reserved for the living legends of jazz. Whether recording with jazzy chanteuses Diana Krall or Dianne Reeves, touring with trumpet king Chris Botti, or collaborating with pop icon Sting, sax legend Wayne Shorter, guitar wizard Jim Hall, star bassist Christian McBride or vibes master Joe Locke, Geoffrey "has more than enough virtuosity and sheer musical wit and intelligence to weave all of his apparently disparate strands of influence into an original and compelling whole" (Time Magazine).
A native of Eau Claire, WI, Keezer was playing in jazz clubs as a teenager, holding down the piano chair for Art Blakey at age 18, and touring in the company of Joshua Redman, Benny Golson and Ray Brown in his 20s. More recently he has toured with David Sanborn, Chris Botti, Joe Locke and Christian McBride; worked with vocalist Denise Donatelli on projects garnering three GRAMMY® nominations, and released a series of albums drawing influences from Hawaiian, Okinawan and Afro-Peruvian folk traditions. Perhaps the most exciting turn in Geoffrey's career is his recent focus on solo piano and his first solo release in thirteen years, Heart of the Piano (2013, Motema Records).
Barely into his 40s, Geoffrey Keezer's singular style of intellectually abstract lyricism woven over exotically complex rhythms and harmonies makes him one of the most sought-after artists on the modern jazz scene. Regardless of the nature of his projects, from solo to duo to quartet, from bandleader to big band, from post bop jazz to electronica to global fusion, from composer to arranger, Geoffrey delivers music from the heart of the piano to the ear—and heart—of the listener.
For more details and ticket information, see http://www.performingarts.soka.edu.
The 1000-seat Soka Performing Arts Center is located at 1 University Drive, Aliso Viejo on the campus of Soka University, a private, non-profit, four-year liberal arts college and graduate program. SUA offers a 9:1 student/faculty ratio and an average class size of 12. The campus was rated in the Top 50 National Liberal Arts Colleges in US News and World Report's "Best Colleges 2014." All undergraduate students participate in a semester of study abroad during their junior year which is included in the tuition. Free tuition is available to eligible admitted students whose annual earned family income is $60,000 or less. The university is open to top students of all nationalities and beliefs and was founded upon the Buddhist principles of peace, human rights and the sanctity of life. About 60% of SUA's students come from the US and 40% have come from 40 other countries. For more information: http://www.soka.edu.