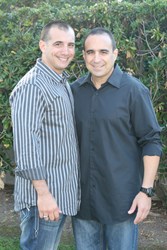 Pasadena, Calif. (PRWEB) December 16, 2013
A police officer from Chino who received a kidney from his brother, a retired Arcadia police officer, will represent Loma Linda University Medical Center on the Donate Life float during the 2014 Rose Parade.
New Year's Day will see kidney recipient John Cervantes, 46, ride on the Donate Life float while his brother and donor, 48-year-old Michael, will walk alongside.
The two will join other kidney donors and organ transplant recipients from across the U.S. who will either ride the float or walk alongside it to inspire the nation and the world about organ donation. Since 2004, the Donate Life Rose Parade float has served as a memorial to organ and tissue donors and a platform for donor families, living donors, and transplant recipients to inspire the world to save and heal those in need through the gift of life.
Loma Linda University Health, Loma Linda University Medical Center, and Loma Linda University Children's Hospital have been strong supporters of the organ transplantation cause, and have regularly sponsored riders for the Donate Life float over the years.
"It's absolutely an honor to be part of the Rose Parade, especially because I will be there with my brother, without whom I may not be here today," said John, who credits his new kidney with allowing him to resume his work as a Chino law enforcement officer. In 2011, he was named Chino Police Officer of the Year.
"It's a privilege to be a part of the Rose Parade because we grew up watching it," said Michael, who now works as a site coordinator at Whittier High School after retiring from law enforcement. "We're very grateful to Loma Linda for sponsoring our participation. They have been with us every step of the way."
The two will also be part of a team from Loma Linda University Medical Center Transplantation Institute that will head out to the Rose Bowl on Dec. 27 to help decorate the Donate Life float.
The brothers have always maintained a close relationship, and even as teenagers, Michael had resolved to donate his kidney to John, when the time came. John had suffered kidney problems at an early age, including surgery at age 14 for bilateral stone removal. In 2009, after a bad infection led to a dramatic drop in his kidney function, John went on dialysis and his transplant journey began. His brother turned out to be a match, and a transplant was performed last March 11.
"My big brother has always been my protector, but I still feel overwhelmed by his selfless and loving act," John said. The transplant was a success and, today, he does not even require dialysis.
"The way I see it," Michael said, "the Lord Jesus Christ created this kidney and attached it to me to someday give to my brother. I was just its custodian."
Dr. Pedro W. Baron, transplant surgeon at Loma Linda University Medical Center, said the need remains high for organ donations.
"We encourage people to become organ donors because then, they save the life of a person," he said.
About 100,000 people are waiting for a kidney transplant in the United States, but less than 20,000 kidney transplants are conducted each year, he said.
Photo Caption: Michael Cervantes (left) and his brother, John, both from Chino, will represent Loma Linda University Medical Center on the Donate Life Float at the 2014 Rose Parade.
###
About Loma Linda University Health (LLUH)
Loma Linda University Health includes Loma Linda University's eight professional schools, Loma Linda University Medical Center's six hospitals and more than 900 faculty physicians located in the Inland Empire of Southern California. Established in 1905, LLUH is a global leader in education, research and clinical care. It offers over 100 academic programs and provides quality health care to 40,000 inpatients and 1.5 million outpatients each year. A Seventh-day Adventist organization, LLUH is a faith-based health system with a mission "to continue the teaching and healing ministry of Jesus Christ."
CONTACT: Herbert Atienza, Loma Linda University Health, 909-558-8419, hatienza(at)llu(dot)edu