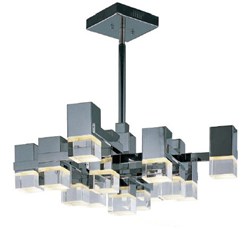 "Collectors like the minimalism of the pieces. The form and shape of the pieces are so attractive and so modern that people today like mixing it with contemporary art."
(PRWEB) December 16, 2013
Just as the originating ideal of midcentury modern style embraced new materials and production innovations, today's consumer remains drawn to the organic, streamlined style but with the latest technological advancements.
The marketplace for lighting fixtures illuminates this re-imagination of midcentury modern style with modern-day technology. Fixtures made of futuristic materials such as Lucite in geometric or organic shapes incorporate dimmable LEDs and the superior contemporary finishes such as polished chrome instead of painted aluminum.
Several midcentury modern incarnations of this LED sustainable technology include ET2 Contemporary Lighting's "Nova" collection made of Lucite blocks and the Crossroads Collection with its intersecting polished chrome tubing finished with frosted acrylic light sabers. Maxim Lighting's new "Pinnacle" collection with its vertical lines and Lucite tubular tips also uses high quality dimmable LEDs that can dim all the way down to 100 percent emitting a third more light than regular incandescent. These collections are reminiscent of the kinetic, sculptural aesthetic of great Italian lighting designers such as Gaetano Sciolari, Poul Behnningsen and Gino Sarfatti. Their broad appeal dovetails with another midcentury modern ideal—the open floor plan, so desired by today's consumers.
Midcentury modern lighting fixtures provide sleek, structural elements that enhance that sense of airiness, space and light many homeowners covet. One of the core principles of this aesthetic is to unclutter a living space. Lighting fixtures enhance the infusion of natural light in an open floor plan and integrate decoration in design without cluttering up a space with superfluous décor.
This dance of midcentury modern with minimalism recently surfaced at Art Basel Miami, where the architectural works and furniture designs of modernist masters Jean Prouve and Charlotte Perriand were marquee attractions. Helin Serre, Director of Galerie Downtown says in the last 20 years, he has seen a renewed interest in Perriand's organic, streamlined furnishings among both art collectors and design aficionados. "Collectors like the minimalism of the pieces. The form and shape of the pieces are so attractive and so modern that people today like mixing it with contemporary art. They can easily adapt Perriand's furniture to any style interior," explains Serre, whose gallery presented a special exhibit of Perriand furniture at Design Miami. Gallery owner Patrick Seguin, also at Design Miami, recreated an original Jean Prouve prefab house furnished with Prouve's designs. "Most of my clients are contemporary art collectors so I think Prouve's furniture dialogs better with contemporary art," says Seguin.
Midcentury modern style remains relevant because it's malleable and forever emblematic of a forward thinking generation—each subsequent one integrating the aesthetics' ideals with modern day technology and current sensibility. From lighting fixtures such as ET2's "Nova" and Maxim's "Pinnacle" collections to furnishings, this reverence for organic forms and streamlined spaces dictates many consumer purchases.