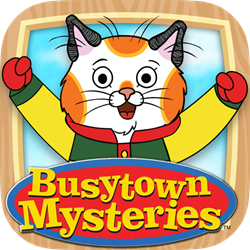 "Busytown Mysteries provides children with more than just something to watch on their tablet screen. It encourages participation, interaction and engaged learning." - Calvin Wang, Loud Crow President and CEO
Halifax, Los Angeles, London, Toronto, Vancouver (PRWEB) December 20, 2013
Loud Crow unveiled their latest interactive children's app this morning, launching a Richard Scarry inspired Busytown Mysteries educational experience across Apple iPhone, iPad and iPod touch devices. Presented in a series of full-length interactive adventures called 'toontales', each Busytown mystery is designed with an educational objective to challenge a child's deductive reasoning skills in a fun and informative way.
The Busytown Mysteries app is based on the well-known television property of the same name. Inspired by Richard Scarry's original series of children's stories, the Loud Crow digital application provides parents with a fun, kid-friendly introduction to basic pre-reading concepts. Developed in close consultation with kids and early childhood educators, Busytown Mysteries is the first truly hybrid children's application to offer educational objectives alongside interactive games, engaging story sequences and entertaining karaoke song snippets.
"Busytown Mysteries provides children with more than just something to watch on their tablet screen," explained Loud Crow President and CEO, Calvin Wang. "It encourages participation, interaction and engaged learning."
Free to install, the Busytown Mysteries app follows Huckle Cat, Lowly Worm and a crew of colorful characters as they scour Busytown in search of the answer to each toontale's mystery. Learning tools, such as touch-to-speak technology, character-specific word highlighting and speech bubbles help children grasp important concepts about print, while an interactive summary at the end of each toontale strengthens deductive reasoning.
There are currently two toontales available inside the Busytown Mysteries app; consumers are encouraged to stay 'tooned-in' for additional content. This includes one episode that is unlocked and available for you and your child to enjoy in "freeview" mode:

The Strange Ski Tracks Mystery – available in freeview mode
Uncover the clues and test your memory to discover who's been leaving tracks on the Busytown ski slope!
EDUCATIONAL OBJECTIVE: Memory Development and Recall

Use your counting and matching skills to help Huckle solve the mystery behind the misplaced gift.
EDUCATIONAL OBJECTIVE: Number and Color Recognition

The Missing Pirate Gold (coming soon)
Put your search and discovery powers to the test at Busytown beach and help Huckle unravel the mystery of the missing pirate gold.
EDUCATIONAL OBJECTIVE Shape and Image Association
Richard Scarry books have sold over 150 million copies and this year celebrated an incredible 50 years of success. There are over 300 titles translated into 30 different languages. Five Richard Scarry books also made Publishers Weekly's Top 100 List of All-Time Bestselling Children's Books. DHX Media represents the property for licensing as well as distributing the animated TV series Busytown Mysteries / Hurray for Huckle! (104 x 11') worldwide.
Busytown Mysteries is available to download for free in the "Education" and "Kids" areas of the App Store. One toontale is always available in "freeview" mode within the app. Additional toontale episodes can be purchased and permanently added to your device for $2.99 USD each.
About Loud Crow Interactive
Based in Vancouver, British Columbia, Loud Crow Interactive Inc. is an award-winning developer and publisher of interactive digital stories. The company's PEANUTS, PopOut! and Boynton Moo Media series of digital stories have garnered numerous honors including Parents' Choice Gold Awards, Kirkus Reviews Kirkus Stars, Apple iPhone and iPad App of the Week, and Apple iPad Hall of Fame. Loud Crow's products have also been featured in the NY Times, Mashable, FOX News, USA Today, The New Yorker, MSNBC, NPR, Kirkus Reviews, and School Library Journal. The team's ongoing mission is to create world-class, highest-quality interactive reading experiences that educate, entertain and inspire. Visit the company's website (http://www.loudcrow.com) for more details. Copyright (C) 2013 Loud Crow Interactive Inc. All Rights Reserved. Apple, the Apple logo, iPhone, iPod and iPad are registered trademarks of Apple Inc. in the U.S. and/or other countries.
About DHX Media
DHX Media (http://www.dhxmedia.com) is a leader in the creation, production and licensing of family entertainment rights. DHX Media owns, markets and distributes 9,500 half hours of children's entertainment content, and exploits owned properties through its consumer products licensing business. DHX Media is recognized for brands such as Yo Gabba Gabba!,Caillou, Teletubbies, In the Night Garden, Inspector Gadget, Johnny Test and Super WHY!. DHX Media's full-service international licensing agency, Copyright Promotions Licensing Group, (CPLG), represents numerous entertainment, sport and design brands. DHX Media has offices in Toronto, Los Angeles, Vancouver, Halifax, London, Paris, Barcelona, Milan, Munich and Amsterdam and is listed on the Toronto Stock Exchange.