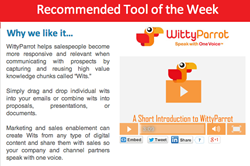 The best sales enablement tools help sales organizations use their limited time more effectively.
San Francisco, CA (PRWEB) December 17, 2013
WittyParrot's sales enablement solution is featured as Recommended Tool of the Week and a Top 40 Sales Productivity Tool in 2013 by Smart Selling Tools President Nancy Nardin.
WittyParrot CEO Anil Jwalanna shared, "We are delighted to be featured by Smart Selling Tools as the Recommended Tool of the Week. Today buyers need more than just access to information when searching for sales enablement tools to improve sales productivity."
"They need expert recommendations. Nancy Nardin is widely considered to be the foremost expert on sales tools which makes us especially proud of this recognition," Jwalanna added.
"The best sales enablement tools help Sales organizations use their limited time more effectively," said Nancy Nardin.
"Spending more time selling and less time doing everything else is an important aspect of sales enablement."
WittyParrot helps salespeople create everyday sales content like emails and proposals much faster; that means they'll be more responsive and have more time left to sell. I've experienced for myself how much time I can free up by saving and reusing information in WittyParrot."
She added, "Increasing time-spent-selling is the key to increasing revenue. An organization with $100M in sales should generate 28M in incremental revenue by increasing their time spent with prospects from 35% to 45%."
Smart Selling Tools offers information and recommendations to businesses that want to improve sales productivity and increase revenue. Its weekly newsletter is where more than 30,000 sales and marketing professionals get their information on sales productivity tools.
About WittyParrot:
WittyParrot is an intelligent content delivery platform with potential to change the way marketers, sales and channel salespeople work, manage information and interact. WittyParrot is built on a profound, but simple idea. To make it easy to find, capture and reuse relevant information so that anyone can communicate faster, more effectively and more consistently.