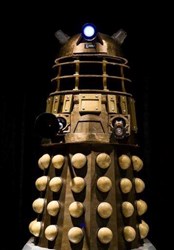 "We want to foster collaborative creativity while raising funds for our community space," said Tamara Clammer, a Doer for Brown Paper Tickets advocating for the maker community, and a producer of the Maker Masquerade. "Maker spaces like Jigsaw Renaissance
Seattle, WA (PRWEB) December 17, 2013
Create a masquerade mask adorned with lights, contribute to a community art installation and meet Dalek Clara, a life-sized robotic replica of a character from "Dr. Who" at the Maker's Masquerade, Dec. 28 at 6 p.m. at Jigsaw Renaissance, Inscape Arts Building, 815 Seattle Boulevard South in Seattle's International District. The all-ages party will feature materials and instruction for light-up mask-making, refreshments, raffles and the music of Tim Scallon. Tickets are available in advance for a minimum of $8 each, with a pay-what-you-can opportunity to donate more than the ticket price to support Jigsaw Renaissance maker space, at http://www.BrownPaperTickets.com/event/531948. Tickets at the door will be a minimum of $10.
"We want to foster collaborative creativity while raising funds for our community space," said Tamara Clammer, a Doer for Brown Paper Tickets advocating for the maker community, and a producer of the Maker Masquerade. "Maker spaces like Jigsaw Renaissance are a place for building community while building something fun, together."
Attendees are invited to dress in their favorite handmade attire, or create something new. A selection of items will be available to fabricate or decorate a mask, belt, tunic or other costume pieces that guests bring. Makers from Jigsaw Renaissance will show party-goers how to make a very simple circuit using LEDs and aluminum tape, so guests can add a few holiday lights to their ensemble, or to a community art installations being created through the evening.
"Adding lights to a masquerade mask really makes you 'stand out'," said Clammer. "The masks can be kept as a holiday souvenir, or re-worn for other masquerade occasions, such as Mardi Gras or Halloween."
Fundraising raffles for maker-oriented prizes, refreshments and the music of Tim Scallon will add to the festive environment and atmosphere. Robotics enthusiasts and sci-fi fans will enjoy mingling with special guest Dalek Clara, a life-sized remote-controlled replica of the robot made famous in "Dr. Who," built by Seattle maker Shaylee Bell.
For more information about the event, or about Jigsaw Renaissance, go to http://www.jigsawrenaissance.org.
###
About Jigsaw Renaissance: Jigsaw Renaissance (http://www.jigsawrenaissance.org) is a member-supported learning and making community, dedicated to collaborative education and creation. Every Monday in January from 6-9 p.m. will be an open house for those interested in checking it out. Want to host a class at Jigsaw Renaissance to teach others whatever you know how to make or do? Visit our wiki page at wiki.jigren.org/Starting_Classes, and then contact us, so we can chat about scheduling something cool together.
About Brown Paper Tickets: Brown Paper Tickets (http://www.BrownPaperTickets.com), the world's only Not-Just-For-Profit ticketing company, creates stronger communities through events, donations and a business model that prioritizes helping people and supporting community over making profits. The company offers sophisticated ticketing and event registration tools at the lowest fees in the industry, donates 5 percent of its profits to causes in the category of each ticket buyer's choice, pays employees a week's salary each year to work for nonprofits, and employs a team of "Doers" to build healthy communities.