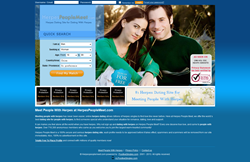 Dating Site for People with Herpes
(PRWEB) January 03, 2014
HerpesPeopleMeet.com is an online dating service special for people with herpes to find dating, love and support, with many unique features like First Date Ideas, Positive Fashion Show, Live Counselor / Expert, Live Dating Advisor and even more to make this site more and more popular. "Hot Topic" is the latest feature which has been launched on this website.
This new feature gives a topic and two totally different views to all members on this website. People choose "Pros" or "Cons" to show their opinions; also, members can post comment to support their viewpoint. Take the first topic as an example: the webmaster of Herpes People Meet gives a topic about "If you have herpes and are in a long term monogamous relationship, would you always use condoms?" The "Pro" is "Yes, condoms make things safer" and "No, it's our own personal choice." is the "Con".
"This feature is really a good way to help our members express themselves and connect with each other. Many users showed their opinions on the topic. Based on the report, 43.75 percent of people would not like to use condoms," said Matt, the Product Manager of Herpes People Meet. "The report makes me surprised because there are still a large number people who would not use condoms even if they have health problem, but it's their own personal choice."
Matt said that he plans to give more controversial topics about STD dating to members in the future, and will try their best to improve this feature.
About HerpesPeopleMeet.com
Herpes People Meet was established in March, 2013 and is a herpes dating site associated with PositiveSingles.com. With nearly 710,300 members from all over the world registered anonymously, Herpes People Meet was voted as the herpes dating site that makes the biggest progress. Read the reviews of Herpes People Meet to know more about this online dating agency.