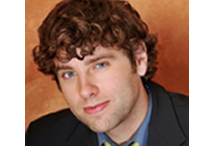 Cleveland, OH (PRWEB) December 17, 2013
Laugh Staff is pleased to announce comedian Jay Black will be joining their ranks to write funny best man speeches and provide consulting.
In addition to becoming a speech coach for Laugh Staff, 2013 has been a significant year for Black. This year, APCA named him both the College Comedian of the Year and the even more prestigious College Performer of the Year. They are titles well earned as Black has performed at nearly 500 colleges nationwide.
When he's not performing at colleges and universities, Black can be found on the club circuit. He has appeared everywhere from Atlantic City to Las Vegas to Los Angeles and everywhere in between.
Black has also had the privilege of working with some of the best in the industry. has opened for several celebrities, including Christopher Titus, Greg Fitzsimmons, Bobcat Goldthwait, Emo Phillips, Pete Holmes, and Sinbad. This past year, Black could also be found working with Kevin Nealon on his east coast tour.
Black's success doesn't end with performing. He has met with equal success as a writer. The TV show he co-created with Brian Herzlinger ("Paulie" starring Paul Sorvino, Janeane Garofalo, and Michael Madsen) was filmed in February of 2013 and his first produced screenplay ("How Sweet It Is") will be released into theaters in Spring of 2013.
"We are thrilled to have Jay work with us," said Laugh Staff co-founder Cameron Amigo. "He is as good a comic as he is a writer and he is the perfect combination that will make our clients successful."
For more information about Jay Black, Laugh Staff Inc. and their speech writing services visit http://www.laughstaff.com or email info(at)laughstaff(dot)com.
About Laugh Staff:
Laugh Staff, Inc. was founded in 2012 by a team of comedians and writers in Cleveland, Ohio. Laugh Staff helps their clients with best man speeches as well as providing best man speech examplesbest man speech examples on their blog. They assist best men and maids of honor in speech-editing, speech writing, and provide training on speech delivery. Recognizing the importance of the big day, Laugh Staff's professional comedians work with best men and maids of honor to ensure they make a lasting impression.