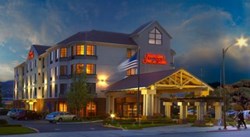 All our services are customized to suit the needs of the local airport and its demographics.
San Francisco, CA (PRWEB) December 23, 2013
Greenbee Parking, a young and upcoming parking service, has just released a whole new range of discounted San Francisco airport parking rates in their latest web upgrades. Now all travelers using the busy San Francisco (SFO) airport can avail secure parking spots for their vehicles even if they book in the "nth hour." There are great deals for long term customers of course, but what sets Greenbee apart from all other service providers is that even short term or single time bookings come with great savings options. Customers can now realize almost 30-75% savings on their parking expenses. The company has already made a name for itself for being one of the to-go options for all those who are looking for the easiest and most convenient airport parking service. Now with their latest announcements through their web presence they have also made it clear that they are one of the most affordable choices for parking.
"All our services are customized to suit the needs of the local airport and its demographics," said Christine Cooper – Marketing Coordinator, Greenbee Parking. "We have created special deals to meet the various customer demands in SFO and that too at discounted San Francisco airport parking rates which will create more value every time and improve on their parking experience."
San Francisco Airport Parking Information
San Francisco is one of the most popular destinations in the world and SFO is one of the busiest and more preferred airports for travelers from around the world. It sees a high volume of both business and leisure travel as the megalopolis is home to top industrial and corporate names as well as the Silicon Valley. It is also a major tourist attraction by itself along with the surrounding scenic beauties and wineries. It ranks among the top 20 airports in the world in terms of passenger traffic and among the top airports in the country by its sheer size and business volume.
To beat the traffic and keep traveler experience at its best, the SFO authorities have constantly endeavored to upgrade and improve on their amenities among which parking is a major focus. Now they have private players like Greenbee Parking who have joined hands to expand and improve the parking scenario even more. In their latest web upgrades the young company has offered further discounts in the San Francisco airport parking rates which promise to allow 30-75% savings on basic travel expenses.
The Greenbee Airport Parking Solution
Greenbeeparking.com is the connection between consumers and parking vacancies in close proximity to major airports and seaports. The parking spaces are very affordable because the company has negotiated discounted rates with major hotel chains for the parking spaces that are not currently occupied. Here's how it works.
Greenbee Parking puts the available inventory of parking spaces on their website to be reserved by business and leisure travelers looking for cheap airport parking. This alternative method for finding parking equates to significant savings for the traveler. You can learn more about their offers from (http://www.youtube.com/watch?v=WWLybHNYjYQ) or via the web at (http://www.greenbeeparking.com/CALIFORNIA/SFO).
About Greenbee Parking
Greenbee Parking is the nation's most innovative long term parking company, with a new way of making long term parking affordable. The company is rapidly adding new airports to its network.