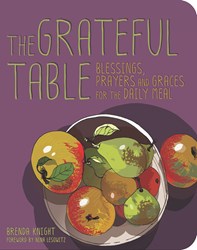 Wow, life is good. —Alicia Keys
(PRWEB) December 17, 2013
Janet Gallin, of Love Letters Live, recently interviewed Brenda Knight, founding publisher of Viva Editions and author of the recent bestseller The Grateful Table: Blessings, Prayers and Graces for the Daily Meal. She then shared her experience interviewing Brenda, and what she learned about gratitude practices on examiner.com. Gallin wrote "The prayers Brenda offers are from religious leaders and philosophers, people who, like Brenda, know that saying grace is a "key ingredient to living a life full of joy and abundance." Brenda brings the power of her upbringing, her sensibilities, and her academic education to this collection."
The Grateful Table was also featured on the popular blog Rural Mom. She wrote about the book, "Each day offers a new perspective and a new way to give thanks, leaving room for your own personal thoughts and words of gratitude."
The Grateful Table
Blessings, Prayers and Graces for the Daily Meal
By Brenda Knight
Saying grace is one of our loveliest traditions. The Grateful Table offers 365 beautiful blessings for every day of the year. A portion of the proceeds also go to Building Opportunities for Self-Sufficiency in Oakland, CA. Too busy to read in the midst of Holiday planning? The Grateful Table is also available as an audiobook!
What people are saying about The Grateful Table:
"This book will not only be an inspiration to you, but will be a catalyst to compiling your own thoughts on how good your own life is and sharing those blessing with others."
–Book Bargains and Reviews
"A sweet little book full of inspirational 'blessings, prayers, and graces for the daily meal.'"
—Eco Child's Play