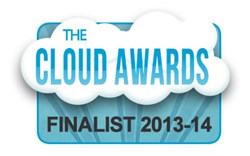 To receive recognition on a global platform of excellence such as The Cloud Awards marks a great end to 2013 and is a sign of things to expect from HRBoss in 2014
Singapore (PRWEB) December 18, 2013
HRBoss, Asia's pioneering Human Capital technology firm, has today been announced as a finalist in the 2013-14 Cloud Awards Program in the category of Best Software-as-a-Service (outside of US).
Identifying and celebrating excellence in the field of cloud computing, the cloud computing awards program encourages entries from across the entire globe – the US, Canada, Australasia and EMEA regions. Entrants can be from organizations of any size, including start-ups and global corporations. This is the first time that an Asia-based company has made the shortlist of the Cloud Awards.
HRBoss qualifies as one of five international finalists in the category of Best Software-as-a-Service (outside US). Other categories this year included Best Cloud Infrastructure, Data Innovation of the Year, "Best in Mobile" Cloud Solution and Most Promising Start-Up.
Bernie Schiemer, HRBoss Founder and CEO commented: "For HRBoss to be shortlisted in the Best Software-as-a-Service category of this year's Cloud Awards program is an honour, especially as we're featured in such a competitive category of international talent. 2013 has been an incredible year of expansion for all of us here at HRBoss. We've grown our suite of solutions beyond our flagship applicant tracking system, HiringBoss, to take on HR Big Data with our workforce analytics platform, EmployeeBoss. In September we launched our CRM for recruiting firms, StaffingBoss, which will be a key driver in our launch into the US market in 2014."
"Our goal has always been not to just take a lead from the amazing pace of Cloud innovations happening in the US, but to build Cloud solutions that genuinely meet the needs of and delight our customers here in Asia. To receive recognition for this on a global platform of excellence such as The Cloud Awards marks a great end to 2013 and is a sign of things to expect from HRBoss in 2014."
Cloud Awards organizer Larry Johnson said: "Every year, we think we must have met the ceiling on how high the standard of entries will get. Every year those expectations are smashed, as a new wave of Cloud pioneers and innovators shows us their successes – and more importantly, their drive for success."
"Cloud technologies are like no other, showing a remarkable ability to act as a catalyst for scalable, intuitive, hardworking solutions for business and modern life. We are lucky enough to be able to showcase some of the brightest and best."
"We're seeing entries from Europe and the UK, from Canada, from the Middle East – and they're matching pace with US offerings. It's always sad for those who can't make the final shortlist, even after splitting awards into geographic regions where necessary, but I can say that every single entry would have been worthy of a place in the final list."
Over 200 organizations entered, with entries coming from across the globe, including the US, Europe, Asia-Pacific, Canada, Australia and the Middle East.
Final winners will be announced on Tuesday, 28 January 2014.
The full shortlist of all categories can be found here. HRBoss has been named alongside the following finalists in their category:
Best Software as a Service (outside US)

HRBoss (Singapore)
BeGlobal - SDL (UK)
ECmanaged (Spain)
Xero (NZ, Aus, US, UK)
Workshare (UK)
About HRBoss
HRBoss is the fastest growing HR & Recruiting software company in Asia. Founded in 2011, HRBoss is rapidly expanding its footprint across Asia with offices currently open in 7 countries today (Singapore, Japan, Vietnam, Indonesia, China, Malaysia and Hong Kong) with additional Asian, European and US offices due to launch in 2014. All of our Cloud solutions are intuitive, highly-configurable and are supported locally on-the-ground where you are. In 2013, HRBoss has experienced rocketing growth, adding over 10,000 new users from all industries, from local start-ups and government agencies through to industry leaders, including Mitsubishi Fuso, Danone and the Monetary Authority of Singapore (MAS) The HRBoss founding team consists of some of the most sought after talent in the industry, with experience that takes in SAP, Oracle, Hays, Lumesse, Accenture and Michael Page International.
About the Cloud Awards
The Cloud Awards is an international program which has been recognizing and honoring industry leaders, innovators and organizational transformation in cloud computing since 2011. The awards are open to large, small, established and start-up organizations from across the entire globe, with an aim to find and celebrate the pioneers who will shape the future of the Cloud as we move into 2014 and beyond. Categories include the Software as a Service award, Most Promising Start-Up, and "Best in Mobile" Cloud Solution. Finalists were selected by a judging panel of international industry experts. For more information about the Cloud Awards please visit http://www.cloud-awards.com/.
Contact details:
For the Cloud Awards
Larry Johnson – 2013-14 organizer
http://www.cloud-awards.com
larry(at)cloud-awards(dot)com
For HRBoss:
Eloise Sutton-Kirkby, Director of Marketing
http://www.hrboss.com
marketing(at)hrboss(dot)com