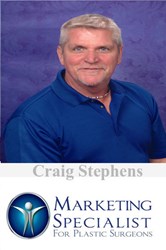 You are a Plastic Surgeon. Let me help you promote your name as a local expert in Plastic Surgery in all the media channels. I'm Craig Stephens, a Plastic Surgeon Marketing Specialist.
(PRWEB) December 18, 2013
Marketing Specialists for Plastic Surgeons, a Florida-based internet marketing agency catering to plastic surgeons, announced today that Miami, FL, Houston, TX, Dallas, TX, New York,NY, and Los Angeles, CA will be the locations for its upcoming contests.
Each city will have its own pair of contests. The contests in all five cities will award a surgery procedure to one person for each within a 50-mile radius of a local surgeon in that area. The winners will be the contestants that submit the most compelling stories of why they want a procedure performed (if they have never had one) or, for those who have already completed a procedure, the most compelling story about how that procedure affected their lives.
Contestants will be chosen from a pool of 500 applicants for each one of the contests. Each winner will get a procedure of their choosing if selected.Contestants will be asked to tell what procedure that they desire to have performed, why they have not had it performed so far, and how they see the procedure positively affecting their lives.
In the second contest, a person from that same geographic area that has completed a procedure already tells the surgeon what they have had performed, how it has affected their lives, as well as whether they would recommend it to others. Then, when the surgeon selects a story as the most compelling, the winner is allowed to select a new procedure that they want as their prize.
The information, according Marketing Specialists for Plastic Surgeons founder Craig Stephens, is very valuable information for surgeons, as it allows them to create new procedures and new ways to reach a larger audience as a way to grow their practices.
"We're happy to announce the first cities that we will be performing the contests in," said Stephens. "Contest forms are now being accepted for Miami, FL, Houston,TX, Dallas,TX, New York, NY, and Los Angeles, CA. In January 2014, contest entries will be accepted for Atlanta,GA, Phoenix, AZ, Boston, MA, San Diego, CA, and Seattle,WA."
Stories written by the contestants will be judged by a plastic surgeon in their area. The plastic surgeon will have the ultimate deciding vote in who wins each contest. Once a winning contestant is chosen, he or she will meet with the surgeon and a date can be set for the procedure. According to Stephens, the stories will be of immense worth to the surgeons that he partners with.
"This contest can take a lesser-known practice and bring it into the spotlight," said Stephens. "Best of all, the surgeon gets to decide which story, and which procedure, he wants to commit to. By choosing a procedure that he likes, he gets instant notoriety in his city for being an expert at that procedure. It's great PR that a lot of surgeons will take advantage of."
Stephens has said that he will stop taking applications immediately upon achieving 500 unique contestants for each contest and each city.
Additionally, contestants will be allowed to increase their chances of winning by socially sharing the contest with others. For each contestant that a person successfully encourages to sign up,a new entry form will be granted to improve their chances.
About Marketing Specialists for Plastic Surgeons:
Contest site: http://www.FreeplasticSurgeryContest.com
Florida-based Marketing Specialists for Plastic Surgeons is a company directly involved in developing marketing techniques for both the cosmetic and plastic surgery industries. The company is owned and operated by Craig Stephens.
For further information,please contact Craig Stephens at: replies(at)freeplasticsurgerycontest(dot)com.