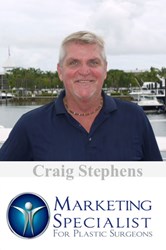 You are a Plastic Surgeon. Let me help you promote your name as a local expert in Plastic Surgery in all the media channels. I'm Craig Stephens, a Plastic Surgeon Marketing Specialist.
(PRWEB) December 18, 2013
Marketing Specialists for Plastic Surgeons, a professional marketing agency that specializes in the plastic surgery niche, has just purchased the domain name and website to host the contest and receive the contestants registration. The contest will award a free plastic surgery procedure to the person who sends the most authentic story based on why they would like that surgery procedure performed. Check this site Plastic Surgery Contest.
"We've opened the website to receive contestants submissions for the cities of Miami, FL, Los Angeles, CA, Dallas, TX, Houston, TX and New York, NY," said Craig Stephens, CEO and founder of Marketing Specialists for Plastic Surgeons. "The cities that will follow shortly, are Atlanta, GA, Phoenix, AZ, Boston, MA, San Diego, CA and Seattle, WA in early 2014. We are already excited about the progress it has made in such a short time."
Stephens says that the website is home to the contestant form that applicants will need to fill out, as well as some important information regarding how to increase their chances of winning. Tips are provided on the site which will aid contestants in creating the best story possible.
"We wanted to give our contestants as much information as we possibly could to improve their chances," said Stephens.
The contest will run in five cities nationwide at first. Stephens also noted that the surgeons will play a major role in the contest, as they are the ones that ultimately decide on who to award the procedures to.
About Marketing Specialists for Plastic Surgeons:
Florida-based Marketing Specialists for Plastic Surgeons is a company directly involved in developing marketing techniques for both the cosmetic and plastic surgery industries. The company is owned and operated by Craig Stephens.
For further information please contact: Craig Stephens, at replies(at)talkingplasticsurgery(dot)info or visit the site: Marketing Specialist for Plastic Surgeons