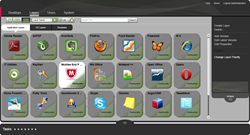 As we move away from traditional PCs and labs, learning becomes more mobile, collaborative and flexible. Rather than having students go to computer labs, the combination of Dell, Unidesk and VMware is helping us bring our labs to our students.
Marlborough, Mass. (PRWEB) December 17, 2013
Tennessee Tech University (TTU) needed to replace outdated computer lab equipment, create a scalable client computing foundation on a limited budget to support growth, and enable students to use course applications on their own mobile computing devices. As one of the United States' 50 "Best Value" public colleges and universities, TTU saw desktop virtualization as the best way to achieve these goals and turned to Dell for a complete solution. Dell delivered with the combination of Dell PowerEdge™ servers, Dell EqualLogic™ hybrid storage arrays, Dell Wyse™ zero clients, Unidesk® virtual desktop management software and VMware Horizon View™ virtual desktop delivery software.
The first phase of TTU's Virtual Desktop Infrastructure (VDI) project is more than half complete, and students, faculty and IT staff are seeing the benefits. Approximately 550 simultaneous connections are available to students through VMware Horizon View, making labs available anytime, anywhere through school-provided endpoints and student-owned devices. Lab applications are updated four times more often with Unidesk desktop layering technology. Dell Wyse zero clients are reducing power utilization by a factor of five. Due to the combined storage efficiency of Unidesk and Dell EqualLogic, TTU's infrastructure is able to support many more desktops than originally planned on the same budget.
"We believe that virtual desktops and 'Bring Your Own Device' are the future of computing in education," said Reid Christenberry, CIO at Tennessee Tech. "As we move away from traditional PCs and labs, learning becomes more mobile, collaborative and flexible. Rather than having students go to computer labs, the combination of Dell, Unidesk and VMware is helping us bring our labs to our students."
At the project's inception, TTU was concerned about the complexity involved in managing a large VDI environment. Unidesk helped overcome those concerns.
Unidesk combines desktop provisioning, image management, application virtualization, personalization and storage optimization into one simple platform. This unique, converged approach is made possible by Unidesk's patented desktop layering technology, which enables desktops to be created from reusable, independently managed sets of operating system and application "layers." The flexibility of layering eliminates the many point of tools and consoles that have made VDI too hard to deploy for many organizations and brings new levels of efficiency to the management of Microsoft Windows®.
"Instead of having to build a custom image for a lab, Unidesk lets us concentrate on which applications we want to deliver," said Jeremy Ey, Systems Administrator and VDI Technical Lead at Tennessee Tech. "We can layer even complex apps like MATLAB, SPSS and Office in a few minutes, then pick which layers we want on each desktop. There are only two golden image layers of Microsoft Windows to patch for all desktops, which greatly simplifies administration, and our students now get the latest software updates every semester, which is a huge win."
Unidesk provisions layered desktops directly into the desktop pools managed by VMware Horizon View. This allows TTU students to access desktops over the high performance PCoIP protocol using the many client options supported by VMware Horizon View, including PCs, laptops, thin/zero clients and mobile devices.
"VMware continues to drive innovation in desktop virtualization, making it easier and more cost-effective for customers to deploy," said Sanjay Poonen, executive vice president and general manager of End-User Computing, VMware. "Together with Dell and Unidesk, we're helping customers like Tennessee Tech accelerate their journeys from the PC era to the multi-device era, while providing IT with high levels of security and control over the end-user experience."
For desktop access in labs, Tennessee Tech is deploying Dell Wyse P20 zero clients, which use less than 15.5 watts of power in full operation, about five times less than a traditional PC. Dell PowerEdge servers host the virtual desktops, while Dell EqualLogic hybrid arrays provide desktop storage and I/O performance. Unidesk stores Windows and application layers only once for every 50-100 desktops, which enables three to four times more desktops to be hosted on the same Dell EqualLogic hybrid storage array.
"Dell has assembled the industry's most complete desktop virtualization portfolio to help customers like Tennessee Tech implement their client computing initiatives with confidence," said Steve Lalla, vice president and general manager for Cloud Client Computing, Dell. "Dell Wyse cloud clients, Dell data center server and storage solutions and desktop virtualization software from Dell partners like Unidesk and VMware have helped complete Dell's transformation to a trusted, end-to-end IT solutions provider."
To learn more about TTU's desktop virtualization initiative, attend the live webinar featuring TTU Systems Administrator and VDI Technical Lead Jeremy Ey, along with TTU colleagues CIO Reid Christenberry, Director of System Support Dennis Hood, and IT Specialist Marbin Pazos-Revilla that will take place on Tuesday, December 17, at 2:00 PM ET, sponsored by Dell, Unidesk, and VMware. Register here: http://www.unidesk.com/tntech.
More than 11,000 students are enrolled at Tennessee Tech, the state's only technological university, known for its leadership and outstanding programs in engineering, the sciences and related areas. TTU also provides strong programs in the arts and sciences, business, education, agriculture and human ecology, nursing, music, art and interdisciplinary studies. Visit http://www.tntech.edu to learn more.
About Unidesk Corporation
Unidesk is accelerating the movement of Microsoft Windows® desktops to the cloud. Unidesk's patented desktop layering software is the only effortless way for IT organizations to deliver applications, manage images, sustain user customizations, and optimize storage for Microsoft Windows® desktops virtualized on VMware vSphere®. Hundreds of Citrix XenDesktop® and VMware Horizon View™ customers use Unidesk to make VDI provisioning and Windows management elegantly simple. Unidesk is a privately held company headquartered in Marlborough, Mass., with authorized solution partners around the world. For more information, visit http://www.unidesk.com.
Unidesk is a registered trademark of Unidesk Corporation in the United States and/or other jurisdictions. VMware and VMware Horizon View are registered trademarks or trademarks of VMware, Inc. in the United States and other jurisdictions. The use of the word "partner" or "partnership" does not imply a legal partnership relationship between VMware and any other company. All other trademarks and registered trademarks are property of their respective owners.