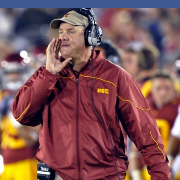 "There is no better Coach, Communicator, or Leader in football (college or the NFL) than Coach Baxter!!" Coach Dick Tomey
Los Angeles, CA (PRWEB) December 17, 2013
USC's Special Teams Coach John Baxter has been an inspirational leader on and off the field. While he is still employed by the Trojans, his ultimate fate has yet to be announced. As a result, big names in the Football world are showing support for USC Special Teams Coach John Baxter.
With turnover happening at places all over the country including, USC, the University of Washington, Boise State, Army, and the University of Texas. Coach Baxter's network of colleagues and former players are showing great support.
Referred to as "the best special teams coordinator in the country" by USC's Director of Athletics Pat Haden, John Baxter's special teams have proven productive, despite USC's roller coaster year.
In 2013, USC Special Teams Lead the BCS in blocked kicks and they lead the PAC 12 in both punt return yards and punts downed inside the 20. Additionally, the punt return team tied an FBS all time record for most punts returned for a touchdown in a single game.
In support of Coach's accomplishments on and off the field, Coach Dick Tomey, famously known for leading the Desert Storm teams at University of Arizona, said, "John Baxter is a great teacher! He has proven his value over and over again on Special Teams and as a position Coach (WR,TE, RB, LB) as well as a leader in the classroom with Academic Gameplan at Fresno State for 14 years, and at USC of late. There is no better Coach, Communicator, or Leader in football (college or the NFL) than Coach Baxter!!"
Former Utah Head Coach Ron Mcbride adds,
"John Baxter is the complete package:
1. Master teacher creator academic game plan.
2. Nationally known as the top special teams coach in college his body of work speaks for itself
3. Assistant Head Coach at Fresno state and USC for 17 total years.
4. He has coached TE, RB, WR, and LB in his career
5. Complete understanding of all academic areas at any university.
6. He has worked with some of the top people in this profession. Including Dick Tomey at Arizona, Pat Hill at Fresno State, Ed Oregeron & Lane Kiffin at USC."
Players haven't held back in supporting Coach Baxter as well.
"He was much more than a coach, he was a leader and mentor whose lessons have stayed with me throughout my life after football." Reported Ryan Mckinley a former Linebacker at Fresno State.
Former USC Punter, Kyle Negrety went on to say "Coach Bax is a father-like figure in my life."
Kenny Amendola, former player at Fresno State said, "Coach Baxter's attention to meticulous details separates him from anyone I know. He never gave up on anyone on or off the field, no matter how turbulent things were."
It's clear that John Baxter is a valuable addition to any staff, and the list of support continues to grow, while is fate at USC hangs in the balance. Only time will tell which program will be the ultimate beneficiary of this innovator's services, and many in Trojan Nation hope it is USC.
Starting his college Coaching career at Loras College when he was only 18 years old. Coach John Baxter is a 30 year veteran who has dedicated his life's work to helping his players off the field as much as he does on the field. To learn more about Coach Baxter's storied career and to see more quotes from past players and colleagues. Please visit https://www.facebook.com/CoachJohnBaxter.