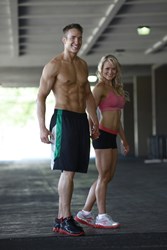 Making constant, little improvements is not only the best method for true beginners, it's the sustainable, healthy lifestyle formula.
(PRWEB) December 17, 2013
There is nothing more convenient than having the peace of mind of being able to work out from home. But for novice levels, where does one begin? One could try some of the highly acclaimed and overly promoted home workout DVD sets, but after doing thorough research, one will find these programs are not suitable for all ability levels. Sure there are a wealth of testimonials for these programs, but there are also a staggering amount of buyers who've experienced Over Training Syndrome and burnout. Finding an appropriate program for one's fitness level, and growing gradually is vital to developing a healthy lifestyle and a lean, toned physique. One needs an all-purpose fitness program with true beginner home workouts. That's where Workout Anywhere by RundleFit steps in.
Truth be told, most fitness programs are not designed for the true beginners. Even with the beginner fitness level being the majority of our society, most programs use shock and awe tactics (poorly designed, one level training programming). These tactics either win or scare of participants. Justin and Jessica Rundle know what consumers want. In fact, they have worked with true beginners since the start of their training careers (whether working around injuries, or a true fitness newbie, Justin and Jessica have nearly a decade of real life training experience with a vast clientele base).
RundleFit's Workout Anywhere is owned and operated by Justin and Jessica Rundle (career trainers, nutritionists and writers and fitness models). Each had their own weight loss journey as well as highs and lows along the way (thanks to major fad diets and get fit quick schemes) but transcended the journey to live a happy, healthy, manageable lifestyle. All this was accomplished through their constant, gradual improvement formula. It worked for Team RundleFit, and has worked for countless others.
A true beginner home workout routine has the same home workout feel, but is appropriately scaled through providing realistic expectations, modifying pace/exercises and adding a number of miniature goals in line with the greater goal. For most, weight gain didn't happen over night. This is why most programs ending in six or 12 week rarely undo years of unhealthy eating habits. Sure, there can be some significant physical transformations in that time, but creating a permanent, healthy lifestyles takes constant, gradual improvement with regards to fitness, nutrition and motivational programming.
Justin and Jessica Rundle are your coaches and personal trainers through their Workout Anywhere training system. Member's have access to real live coaching and well planned programming from coaches who know the struggle personally. Whether a true beginner looking for the best home workouts, or an advanced athlete seeking a butt kicking, RundleFit's Workout Anywhere has the right training methods to meet all fitness and nutrition goals.
About Workout Anywhere by RundleFit:
For true, all-level home workouts, traveling workouts or anywhere routines, Workout Anywhere by RundleFit is the answer. RundleFit's workout formula provides the appropriate variation and pace for beginners, intermediate and advanced members. On top of this formula, RundleFit has over 60 workouts and counting to satisfy anyones total body strength, conditioning, core, plyometric and flexibility needs and can be achieved with little to no equipment.
All fat burning workouts, nutrition plans, recipes and coaching from master trainers Justin and Jessica Rundle is accessible through mobile phones, tablets, computers, televisions, Apple TV, Roku, Google TV or anything that connects to the internet. Get jump started on the new you with a free 30 day trial and then only $9.95/month.
Cheers with water!