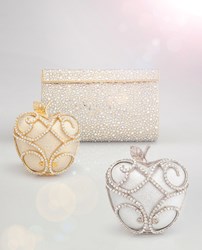 NICOLI's Red Carpet Collection promises to fulfill the dreams of fashion conscious women who truly recognize what A-list glamour means
Dubai, United Arab Emirates (PRWEB) December 18, 2013
NICOLI's latest Red Carpet Collection epitomizes a unique style and mirrors the individuality and the personalities of the women who shop there. "Encrusted with the highest-quality Swarovski crystals, NICOLI's statement clutches and shoes are the ideal solution to make you shine on the Red Carpet," states Kate Weaver, Marketing Director for NICOLI.
Created as the perfect accessory to life's most beautiful and memorable moments, Hollywood glamour and Italian styling are at the forefront of all NICOLI designs; from exquisite handcrafted evening handbags, purses and clutches to elegant Swarovski diamanté embellished shoes.
Each and every shoe and bag from the Red Carpet Collection has been hand designed and crafted with the utmost care and attention to detail. Furthermore, NICOLI products are produced in limited quantities, this not only creates excitement when new collections are released monthly, but also ensures that very few women have the same shoe or bag.
At NICOLI, this Red Carpet Collection promises to fulfill the dreams of fashion conscious women who truly recognize what A-list glamour means! So, put your best crystal embellished shoe forward and step onto the Red Carpet and into the spotlight with NICOLI, the Luxury crystal embellished shoe and handbag brand. For further information visit their online Boutique http://www.nicolishoes.com.