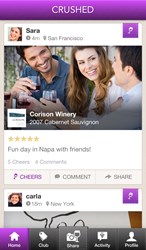 San Francisco, CA (PRWEB) December 18, 2013
According to the PEW Research Center, 91% of U.S. adults are cell phone users, and close to 60% use a smartphone to access information. We have become a mobile-first society that believes in social sharing – and with the launch of Crushed Wine App, today's wine lovers no longer need to feel left behind.
Crushed Wine is a Social Mobile Wine App allowing users to track, search and share their favorite wines across social networks in one easy-to-use app. Crushed founder and wine professional Carla McKay found herself frustrated by a lack of comprehensive options when it came to wine apps. Driven by the belief that wine is above all a social experience, she assembled a team of technology and wine experts to create a simple and lively app that incorporates the social interactions around sharing a bottle of wine.
"When we set out to build Crushed we knew there was a great the opportunity to build a more relevant wine app," explains McKay. "Wine is social. Wine is meant to be shared with friends, and ultimately we trust our friends' choices first. But, there's a lot of wine to sip and share, and until recently no way to best organize and track all the data. Crushed Wine App is designed to do this for us in one easy app that puts social sharing first."
Crushed helps answer the most basic wine questions, and makes them socially accessible. Questions like: "What was the name of the wine we had with dinner last night?" Or, "What wines are my friends drinking?" and "What does my network have to say about this bottle?"
Getting the Crushed Wine App is easy: users download the free app from the iTunes store, and then create a profile that is fully integrated with Facebook and Twitter. Crushed Wine allows users to create and store a virtual cellar with photos and archived tasting notes of favorite wine selections. Robust functionality allows users to tap their friends' preferences for ideas and recommendations, or access the Crushed Wine community for a universe of new wine choices in real time, as well as daily promotions on the Crushed Wine Club channel. And above all, the sharing functionality allows users to upload and share photos of wine discoveries and post to social media networks in one single platform.
For more information about Crushed and to request an interview please contact Helen Gregory, helen(at)gregorywhitepr(dot)com or Kate Schwab, kate(at)gregorywhitepr(dot)com. To download the app, click here: https://itunes.apple.com/app/id758303891. You can also connect with Crushed on Facebook or on Twitter @CrushedWineApp.