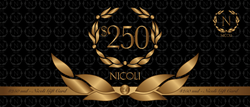 Buy the perfect gift every time with NICOLI Gift Cards available in $25, $50, $100, $250 and $500 dominations
(PRWEB) December 20, 2013
nicolishoes.com is an interactive luxury shoe and handbag shopping boutique which brings the high-end in-store NICOLI experience to its online customers around the globe. NICOLI's flagship online boutique http://www.nicolishoes.com offers its shoppers the chance to not only browse and buy the latest limited edition crystal embellished NICOLI Shoe and Handbag Collections via multiple payment options, but also allows its customers to buy the perfect gift every time by offering NICOLI Gift Cards available in $25, $50, $100, $250 and $500 dominations. The Gift Cards can be sent to friends and redeemed online and in stores though out the GCC.
Renowned world-wide for their unique, handcrafted and innovative designs, NICOLI's Collections have been created as the perfect accessory to life's most beautiful and memorable moments. Hollywood glamour and Italian styling are at the forefront of all NICOLI designs; from exquisite handcrafted evening handbags, purses and clutches to elegant Swarovski diamanté embellished shoes.
Keeping up-to-date with the latest trends, new limited edition pieces are designed monthly in the United Kingdom by Anna Kitchenset, whose fertile mind creates diligently and gives NICOLI shoes a glamorous edge, making clients truely feel like they are a style icon. Whether it's the trendy silver crystal embellished butterfly sandal or daring green flower diamanté flat, for the ultimate collection of diamante shoes, one doesn't need to look any further!
At NICOLI, the focus is on providing every shoe aficionado with 'affordable luxury' which caters to the modern-day woman and is sure to satisfy her never ending thirst for fashion. Only the finest material, expert workmanship, and unique designs are used, making customers eager to come back for more "Red Carpet Creations" which exclude the sky high price tags.
Unveiling new concepts in luxury footwear, Anna's taste, imagination and panache have driven this storied label to even greater heights by attracting a varied clientele and offering them a complete NICOLI lifestyle. The NICOLI crystal embellished shoe and handbag collections epitomise Arabian elegance and Hollywood glamour by enhancing the charms of formal and casual wearing.
NICOLI offers a wide range of luxury crystal embellished shoe and handbag styles, from Wedges to Ballerina Shoes, Wedding Shoes to Flats and Sandals, exquisite Swarovski embellished high heels to glamorous hand crafted evening handbags, purses, clutches and gift cards - all of which can be admired and bought online at http://www.nicolishoes.com and throughout the GCC at NICOLI Boutiques.