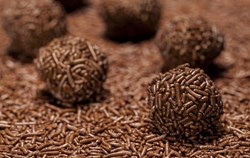 In short, when you are in the Queen's country, don't lose out on these scrumptious British treats.
(PRWEB UK) 18 December 2013
Why these cuisines are underrated we wonder. Yes, everyone knows the delicate French cuisine and the spicy Indian or the yummy Chinese fare. Everyone loves a good Thai curry and who hasn't had some lip-smacking pizza? But unfortunately there are countries in the world that have a lush fair to offer up at the dinner table, but nobody knows about it.
Well, anyway, we are here to right that wrong and make sure the world knows all the wonders of these yummy cuisines from around the world. If you travel with your stomach too, read ahead to know more about the gastronomic pleasures that totally deserve their moment in the limelight.
1. Brazil: This country is sure to be on the watch list of any avid traveler. Well, here is one more reason to want to go to Brazil; delicious food! They have a variety of fried snacks called Salgados which are sure to keep you coming back for more. Empada, risoles, enrolado, pastel and esfisha are only some of the many varities on offer. If in doubt try the coxinhas which are yummy cheese and chicken balls which are fried. If you have a sweet tooth, this country is your paradise. From coconut flavored bon-bons to yummy cinnamon doughnuts called Bolinho de Chuva, Brazil has an amazing variety of sweets on offer. However, the undoubted king of Brazillian desserts in the Brigadeiro. These yummy chocolate and condensed milk balls sprinkled with more chocolate need no talking up. Add them to your "must try" list at once.
2. Britain: Including Britain here might seem rather strange. But think about it, does anyone ever talk about British food? The cottage pies, the Cornish pasties and the heady meat stews; why have they been forgotten? British food is a lot more than just your regular fish and chips. The famous wellington which is basically lush meat cooked inside a flaky puff pastry deserves a royal mention. The traditional roast dinner with roast meat, veggies and Yorkshire puddings are an absolute treat. The elaborate British breakfast with eggs, toast, fruits and several other yummy dishes is sure to be a great start to your day. And how can we forget the quintessentially British tea? Served with delicious pastries, jammie dodgers and an unhealthy variety of biscuits and cakes, the British afternoon tea should be every foodie's dream-come-true. In short, when you are in the Queen's country, don't lose out on these scrumptious British treats.
3. Norway: When you think of travel, Norway may not usually make it to the top of anyone's list but there is a reason why it should; the awesome food. Norwegian food is both tasty and healthy, making it the perfect food destination for the health conscious. The fish, being fresh and easy to find, is always the wag to go. The Grilled Salmon will tantalize any palate. Lutefisk, which is a dried fish dish, is a delicacy here. The fish soups and bisques in a variety of spices are sure-fire must-haves. Blotcake is a sweet treat that will also add to your Norwegian food experience. Wholesome deliciousness!
4. The Philippines: the unique thing about Filipino cuisine is that it is an amazing marriage of the east and the west. Meat marinated in soy sauce and served with rice forms a dish called adobo that is absolutely luscious. Every meal is served with a variety of sauces called Sawsawan which are a definite must try. The Spanish influence means that you also have your yummy paellas and delicious meaty stews. If you are into sea food try the Lumpia which are succulent dumplings straight from heaven! The sheer variety makes it worth the try.
5. Russia: Yes, get over the vodka stereotype and you discover an amazing variety of cuisine that Russia has to offer. Shchi a lovely cabbage and meat soup makes for a very interesting try when in Russia. It's not just this; Russia has an amazing variety of soups to choose from. There is also the "shashlyk" which is like a kebab but is made of sticky gooey awesomeness that calls out to be eaten. Also if you are a teetotaler or have had way too much vodka the night before why not try the Kvass,a brewed drink that has many delicious flavors like ginger, raspberry and what not. Most importantly, you have to try out the khrenovina which goes with almost anything and is a spicy horseradish and tomato sauce from Siberia that is absolutely delectable!
So pack your bags and let your taste buds guide you to the most interesting places in the world. Let those culinary juices flow and take a leap into the amazing world of world cuisines. You will certainly not be disappointed!