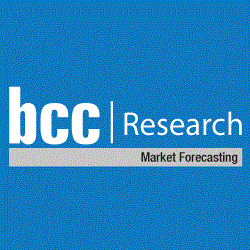 Wellesley, MA (PRWEB) December 17, 2013
Increasing environmental and regulatory measures have significantly impacted the commercial and commodity chemical products market over the near term. Consequently, much of the growth in this market is moving away from the developed regions of Europe and the United States to developing and emerging economies such as China, India, and other Asian nations, according to BCC Research (http://www.bccresearch.com).
However, commercial chemicals for products such as coatings, resins, gases, fuels, pesticides, and cosmetics have all seen consistent growth on a global and/or segmented geographical scale. Research and development and regulatory and industry standards, as well as environmental concerns will drive this market for the foreseeable future.
BCC Research's technical market research reports cover the full range of materials within this dynamic market. Chemical production companies and investors must understand these developments in order to capture new opportunities in both domestic and international markets. BCC Research's reports provide invaluable insights on how today's evolving markets are changing core business models in the commercial and commodity chemicals industry.
Use BCC Research reports to:

Gain an overview of the global chemicals markets, including coatings, resins, gases, fuels, pesticides, and cosmetics.
Analyze five-year market trends with data from 2012, estimates for 2013, and projections of compound annual growth rates for the period 2013 to 2018.
Evaluate industry trends and patent analyses of emerging products and technologies within this market.
Assess the impact of industry standards and governmental regulations on global markets.
Review comprehensive company profiles of the top industry players and their relative market shares.
Recently Published Reports:
CHM072A - Seed Treatment: Technologies and Global Markets
The global seed treatment market has grown exponentially in the last few years and growth is expected to continue. Low-cost crop protection and rising prices of genetically modified crops, as well as a rising world population and increasing food requirements will drive steady growth in this market for the near term. Seed Treatment: Technologies and Global Markets provides an overview of the global market for seed treatments, which provide a broad spectrum of protection from insects, diseases, and nematodes. Assessments of industry structure, major companies and market shares, and strategies, such as new product development, merger and acquisitions, and expansions are also included. (October 2013)
CHM074A - Sealants and Sealant Applicators: Technologies and Global Markets
The sealant industry has been growing steadily across all sectors, including automotive, construction, electronics, transportation, and others. Demand is being driven by the emergence of new market applications that have resulted from evolving and improving assembly processes. Sealants and Sealant Applicators: Technologies and Global Markets provides an overview of the global sealants and sealant applications market. An evaluation of product life and technology life styles of various types of sealants and methods is also provided. (October 2013)
CHM073A - Adhesives and Adhesive Applicators: Technologies and Global Markets
The emergence of new market applications along with the evolution and improvement of assembly processes has increased the demand for adhesives. Adhesives and Adhesive Applicators: Technologies and Global Markets provides a comprehensive overview of the technologies involved in the manufacturing of different types of adhesives. It discusses the value of such products produced and utilized globally as well as in different regions during the last three years, and presents forecasts for the next five years. (September 2013)
CHM014L - Flame Retardant Chemicals: Technologies and Global Markets
The development of new flame retardant technologies such as environmentally friendly nanocomposites and synergistic formulations are expected to gain market share over the next five years. Flame Retardant Chemicals: Technologies and Global Markets provides an overview of the global market for flame-retardant chemicals, with coverage of plastics, textiles, wood/paper, coatings/paper, coatings/construction, and coatings/decorations market applications. In addition, this comprehensive technical market report examines government regulations and their potential impact on the market. (September 2013)
CHM062A - Global Markets for Oleochemical Fatty Acids
While a global business, fatty acids have a high regional tendency due to the fact that moving fatty acids a long distance is expensive because acids are prone to air oxidation, color reversion, odor reversion, metal pick–up, and partial crystallization. Global Markets for Oleochemical Fatty Acids provides an overview of the global markets for oleochemicals, including natural fatty acids, biodiesel and methyl esters, glycerine, as well as derivatives such as soaps, dimers, branched fatty acids, and fatty alcohols. This in-depth study also provides a thorough breakdown of regional market sectors; reviews latest technology developments, including the patent space; provides a regional perspective; and examines the changing raw materials landscape. (January 2013)
Upcoming Reports:
CHM077A - Water Repellent Coatings: Technologies and Global Markets
This technical market research report will provide a comprehensive overview of the global water repellent coatings market. Market size estimates and forecasts for the global market and all major market segments through 2018 will also be included. (January 2014)
CHM053B - Yeasts, Yeast Extracts, Autolysates and Related Products: The Global Market
The report will provide an overview of the global production and use of yeast and yeast-derived products, including analyses of global market trends, with data from 2012, estimates for 2013, and projections of CAGRs through 2018. (February 2014)