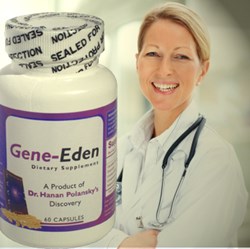 We recommend that people reduce viral symptoms with Gene-Eden-VIR. – Mike Evans, polyDNA
Rochester, NY (PRWEB) December 20, 2013
The number one complaint of patients suffering from Shingles is the lingering pain. Shingles (herpes zoster) is a condition caused by the reactivation of the latent Varicella Zoster Virus (VZV). After the initial symptoms (such as a rash of painful, fluid filled blisters) go away, many patients complain of lingering pain that lasts for years (1). This pain is called post-herpetic neuralgia.
These patients wonder if there is a way to help them with the pain. To answer this question, polyDNA needs to explain the relationship between the two phases of the VZV, latent and active. For an easy to understand, in-depth explanation of this relationship, please visit: http://www.cbcd.net/What-is-a-cure.php
To summarize this page, when the immune system attempts to clear the active virus, the virus fights back by reactivating more latent viruses. The reactivation of these latent viruses prolongs the time it takes the symptoms to disappear. Therefore, any treatment that targets either the latent or active virus can help reduce symptoms.
As expected, in a post marketing clinical study published on August 12, 2013 in the medical journal Pharmacology & Pharmacy in a special edition on Advances in Antiviral Drugs, researchers showed that the antiviral, Gene-Eden-VIR decreased viral symptoms, and increased overall health (2).
Each ingredient of Gene-Eden-VIR was chosen through a scientific approach. Scientists scanned thousands of scientific and medical papers published in various medical and scientific journals around the world to identify the safest, most effective natural ingredients that target the latent form of herpes zoster. (2)
"We recommend that people reduce viral symptoms with Gene-Eden-VIR." – Mike Evans, polyDNA
How does this pain develop?
The virus damages nerve endings and as a result, the individual experiences pain. The longer it takes to resolve a herpes zoster outbreak, the more damage these nerves suffer. Nerves take a long time to heal, and thus the pain can last a long time. By helping the immune system to resolve a herpes outbreak faster, an individual also shortens the time the virus has to inflict lasting nerve damage.
What type of pain do individuals experience?
There are different types of pain reported by patients with herpes zoster. "Current studies show that these types of pain vary with respect to their presence, location, duration, intensity and quality, hence pain needs to be analyzed more thoroughly (1)." Types of pain described by people with herpes zoster include throbbing, aching, hot-burning and sharp, piercing pains.
Individuals generally suffer from pain that is moderate in intensity. A substantial minority has severe pain that is present for most, or all, of the day. This can cause both physical disability and emotional distress. This is according to a study published on August 1, 2004 in the medical journal Clinical Infectious Diseases (3).
To learn more about Gene-Eden-VIR, visit http://www.gene-eden-kill-virus.com. All orders of Gene-Eden-VIR are completely confidential, and no information is shared or sold to any third party. Privacy is assured.
Reference:
(1) Quality of pain in herpes zoster patients. Published in June 2013.
http://www.ncbi.nlm.nih.gov/pubmed/23941000
(2) Gene-Eden-VIR Is Antiviral: Results of a Post Marketing Clinical Study. Published on August 12, 2013.
http://gene-eden-kill-virus.com/PP_Gene-Eden-VIR-is-Antiviral.pdf
(3) Acute pain in herpes zoster and its impact on health-related quality of life. Published on August 1, 2004.
http://www.ncbi.nlm.nih.gov/pubmed/15307000
polyDNA is a biotechnology company that develops dietary supplements using the unique scientific method developed by Dr. Hanan Polansky, which is based on Computer Intuition.
In addition to his unique scientific method, Dr. Polansky published the highly acclaimed scientific discovery, called Microcompetition with Foreign DNA. The discovery explains how foreign DNA fragments, and specifically, DNA of latent viruses, cause most major diseases.
polyDNA developed Gene-Eden-VIR, an antiviral natural remedy that helps the immune system kill latent viruses.