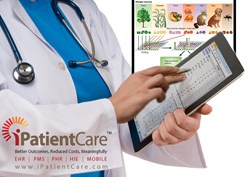 It gives us plenty of room for customization of workflow and specialty features. We love their skin and patch testing forms. They are extremely user-friendly. Natarajan Asokan, MD, Trinity Allergy, Asthma and Immunology.
Los Angeles, (PRWEB) December 18, 2013
iPatientCare, Inc., a pioneer in mHealth and cloud-based ambulatory EHR and integrated Practice Management solutions announced the special recognition and success in delivering Asthma, Allergy, and Immunology focused EHR and integrated Practice Management and Patient Portal solution.
"Involving specialists in the EHR revolution, especially those who are focused on serving a patient population that gets affected because of the regional/local allergens, is a challenging task. Most physicians specializing in allergy and immunology demand for an EHR and PM System that is designed for their specialty and not which is a generic EHR that provides few templates for their specialty! Allergist/Immunologists need specialized forms and injection therapy which is never provided by most EHR. Additionally, most specialists are concerned if the EHR they use is not yet Meaningful Use Stage 2 certified. iPatientCare EHR is an obvious choice for all allergists/immunologists looking to switch their existing EHR to an EHR which is Meaningful Use Stage 2 certified, designed for their specialty, is easy-to-use, and affordable, that is, no upfront licensing and data migration costs", said Udayan Mandavia, President/CEO, iPatientCare.
"We have been using iPatientCare EHR since 2010. It gives us plenty of room for customization of workflow and specialty features. We love their skin and patch testing forms. They are extremely user-friendly and reflect the maturity of their product for our specialty. It also works beautifully with Dragon Naturally Speaking voice recognition system and provides customizable rich templates. Our front-desk loves to use iPatientCare for scheduling appointments for allergy shots and maintenance automatically. iPatientCare folks also know how to disseminate the rich knowledge base by arranging extra-ordinary user conferences all through the year", commented Natarajan Asokan, MD, Trinity Allergy, Asthma and Immunology, having offices at Kingman, Bullhead and Lake Havasu, Arizona.
Elaborating on the functionality of the Allergy Shot or Immunotherapy System, which is also being sold as an independent product by iPatientCare which can interface with any other EHR, Kedar Mehta, CTO, iPatientCare said, "Each Allergist/Immunologist has their own recipes to treat their patients and it varies from patient to patient. Hence, we have designed a very intuitive wizard-like interface, which guides the users to create patient-specific mix based on the skin test / patch test results, keep track of inventory and define schedule for the allergy shots. In addition to color codes, the bar code scanning ensure that the right does is given to the right patient at the right time. The automated reminders for the next scheduled allergy shot delivered through phone call/text messages ensure that the patients do not miss the dose."
About iPatientCare:
iPatientCare, Inc. is a privately held medical informatics company based at Woodbridge, New Jersey. The company is known for its pioneering contribution to mHealth and Cloud based unified product suite that include Electronic Health/Medical Record and integrated Practice Management/Billing System, Patient Portal/PHR, Health Information Exchange (HIE), and mobile point-of-care solutions that serve the ambulatory, acute/sub acute, emergency and home health market segments.
iPatientCare EHR 2014 (2.0) has received 2014 Edition Ambulatory Complete EHR certification by ICSA Labs, an Office of the National Coordinator-Authorized Certification Body (ONC-ACB), in accordance with the applicable eligible professional certification criteria adopted by the Secretary of Health and Human Services (HHS).
Full certification details can be found at ONC Certified Health IT Product List.
The ONC 2014 Edition criteria support both Stage 1 and 2 Meaningful Use measures required to qualify eligible providers and hospitals for funding under the American Recovery and Reinvestment Act (ARRA).
The company has won numerous awards for its EHR technology and is recognized as an innovator in the field, being a pioneer to offer an EHR technology on a handheld device, an innovative First Responder technology to the US Army for its Theatre Medical Information System, the first to offer a Cloud based EHR product. iPatientCare is recognized as one of the best EHR and Integrated PM System for small and medium sized physicians' offices; has been awarded most number of industry Awards; and has been recognized as a preferred/MU partner by numerous Regional Extension Centers (REC), hospitals/health systems, and academies.
Visit http://www.iPatientCare.com for more information.