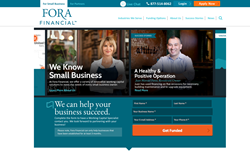 "Our vast experience in the industries we serve enables us to truly understand each client's business so we are able to provide creative, innovative funding solutions to best meet their needs."
New York, NY (PRWEB) December 17, 2013
Fora Financial, an industry-leading direct provider of capital, launched its new website today. Fora Financial offers extensive funding solutions to small businesses in many industries including manufacturing, medical, retail, wholesale, transportation, consulting services, restaurant, construction and auto.
The new website provides tips and tools organized by specific industry. Resources include information about different financing plans such as the Merchant Financing program, which is designed to work with restaurants, medical/healthcare, auto, retail and services, and the Small Business Loan, which is recommended for wholesale, manufacturing, auto, construction and transportation industries. The website also includes case studies about current and past clients highlighting the programs and payment plans that worked best to fit their needs.
Fora Financial provides approvals within 24 hours and delivers funds within 72 hours, which is among the fastest in the industry.
"We utilize time-proven solutions and state-of-the art technology to provide our clients and industry partners with flexible, innovative funding solutions while being highly transparent," said Fora Financial CEO & Founder, Jared Feldman. "Our vast experience in the industries we serve enables us to truly understand each client's business so we are able to provide creative, innovative funding solutions to best meet their needs."
Another tool the new website features is a funding estimate toolbar where small business owners enter their monthly revenue, time in business and average ledger. The online calculator automatically estimates the amount of funding they can be approved for before they even apply. This feature offers owners a jumpstart to their funding process.
Fora Financial's process of providing small businesses with simple, quick and customized financial solutions has already helped nearly 4,000 customers receive more than $145 million during the past five years.
For more information about Fora Financial, visit http://www.forafinancial.com.
About Fora Financial
Fora Financial offers flexible, working capital solutions to small businesses in need of financing to sustain or grow their enterprise. The Manhattan-based company places a high value on trust and transparency and provides businesses with quick, customized financial solutions utilizing its state-of-the-art technology platforms. Founded in June 2008, Fora Financial has provided more than $145 million to nearly 4,000 customers.
###