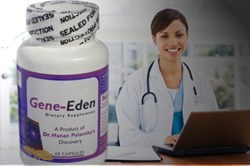 We believe people with herpes should take Gene-Eden-VIR to help their immune system target the latent HSV-2 virus. Gene-Eden is a natural antiviral that was clinically proven to reduce viral symptoms. – Mike Evans, polyDNA
Rochester, NY (PRWEB) December 21, 2013
Once someone is infected with genital herpes, the stigma of the infection can ruin an individual's dating value. Multiple studies show that the disease can cause immediate, negative psychological and social effects that last for years. In polyDNA's latest survey, many women said "yes" when asked if they felt herpes had damaged their dating lives.
An article published on November 13, 2013 on Hairpin.com gave an example of the trauma the author experienced when diagnosed with genital herpes. She wrote that "the diagnosis inevitably warped the way I thought about myself. I no longer felt like a free agent in the world of love and sex; instead, I assumed I'd have to settle a notch or two down from the man who could have loved a herpes-free me. I may never have had another sore, but I still felt marked (1)." Note the feelings of "reduced value in the dating market" the author described.
These feelings are common among herpes infected individuals, as a study published in the Journal of Health Psychology in January 2011 showed. Common emotions include "fear of rejection associated with telling current and future sexual partners, even if the current partner also has herpes (2)." In addition, people feel distressed, confused over the way they became infected, sad, and disappointed in themselves (2).
As a result of the stigma associated with a genital herpes infection, people may stop having sex for a short time, or altogether. "…people may experience a decrease in their sex drive and an avoidance of sexual situations due to anxiety about telling potential partners (2)."
polyDNA believes people do not have to live with the stigma of genital herpes. As study authors wrote, "Psychological symptoms remitted when physical symptoms lessened… (2)." In other words, once the frequency of genital herpes outbreaks lessened or stopped completely, people felt better about themselves.
"We believe people with herpes should take Gene-Eden-VIR to help their immune system target the latent HSV-2 virus. Gene-Eden is a natural antiviral that was clinically proven to reduce viral symptoms." – Mike Evans, polyDNA
In a post marketing clinical study published on August 12, 2013 in the medical journal Pharmacology & Pharmacy in a special edition on Advances in Antiviral Drugs, researchers showed that Gene-Eden-VIR is safe and effective (3). Additionally, up to 70% of those studied reported a decrease in viral symptoms, and users experienced an increase in overall health (3).
Each ingredient of Gene-Eden-VIR was chosen through a scientific approach. Scientists scanned thousands of scientific and medical papers published in various medical and scientific journals around the world to identify the safest, most effective natural ingredients that target the latent HSV-2. (3)
To learn more about Gene-Eden-VIR and herpes, visit: http://gene-eden-kill-virus.com/Herpes-Remedy.php. All orders of Gene-Eden-VIR are completely confidential, and no information is shared or sold to any third party. Privacy is assured.
Reference:
(1) How I Found Out I Didn't Have the Herpes I'd Been Living With for Four Years. Published November 13, 2013.
http://thehairpin.com/2013/11/how-i-found-out-i-didnt-have-the-herpes-id-been-living-with-for-four-years
(2) The psychological impact of genital herpes stigma. Published in January 2011.
http://www.ncbi.nlm.nih.gov/pubmed/20656766
(3) Gene-Eden-VIR Is Antiviral: Results of a Post Marketing Clinical Study. Published on August 12, 2013.
http://gene-eden-kill-virus.com/PP_Gene-Eden-VIR-is-Antiviral.pdf
polyDNA is a biotechnology company that develops dietary supplements using the unique scientific method developed by Dr. Hanan Polansky, which is based on Computer Intuition.
In addition to his unique scientific method, Dr. Polansky published the highly acclaimed scientific discovery, called Microcompetition with Foreign DNA. The discovery explains how foreign DNA fragments, and specifically, DNA of latent viruses, cause most major diseases.
polyDNA developed Gene-Eden-VIR , an antiviral natural remedy that helps the immune system kill latent viruses.