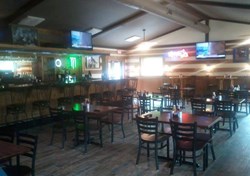 Jefferson City, MO (PRWEB) December 17, 2013
Leading commercial furniture distributor, Restaurant Furniture.net recently teamed up with Veits Pub and Grill in Jefferson City, MO to rebrand a legendary bar and grill and launch a successful grand opening.
Veit's Pub & Grill is a restaurant/sports bar that serves classic American food in an old school environment. Veit's Pub & Grill is a new take of the old Veit's that was on Missouri Blvd for 80 years. They have a restaurant on one side and a sports bar on the other side with a large outdoor patio in the back. The owner has worked to make the place have an old school look to it; much like the old Veit's was in the 40's and 50's.
They serve American classics such as hand pattied cheeseburgers and fried chicken, along with comfort foods like the open faced roast beef with mashed potatoes and gravy. They also serve classic favorites such as country fried steak, fried catfish and sirloin steak.
The sports bar has several TV's for all the sports games along with the same menu from the restaurant side. The outdoor patio has ambient lighting along with music and an outdoor bar, and there is live music on some occasions.
The owner of Veits Pub and Grill needed high quality commercial seating that would look great and be able to withstand the high traffic that the bar experiences on a daily basis. "The owner needed sturdy, durable chairs that look great, but he didn't want to spend a lot of money," explained David M. He turned to Restaurant Furniture.net because of their reputation for premium quality and strong built furniture at affordable prices. Restaurant Furniture.net supplied Veits Pub and Grill with high quality chairs at competitive prices that fit well within their budget.
For seating decided to go with sleek metal ladder back chairs with black frames and solid wood seats in mahogany. Customers can also choose a padded seat made of vinyl or fabric. Wood seats are available in 6 different finishes. The frame is available in black, copper vein, silver vein, gold vein or gold. The chairs are currently on sale for $34.50. Matching bar stools are currently on sale for $51.
Browse Restaurant Furniture.net's full selection of commercial grade chairs, bar stools, table tops, table bases, booths and patio furniture at http://www.restaurantfurniture.net or talk to a customer service representative at (888) 409-1115.
Veits Pub and Grill is located at 2314 Lorenzo Greene Dr. in Jefferson City, MO. They can be reached at (573) 635-8893.