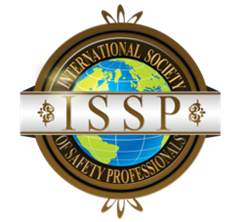 "We believe that our new development offerings for safety professionals, in line with a defined ISSP career track for safety professionals, will serve to improve capacity and achieve reductions in workplace safety related loss as never seen before."
Alexandria, VA (PRWEB) December 19, 2013
According to workplace safety data available on the U.S. Labor Department's Bureau of Labor Statistics website,"In 2010 a total of 4,690 workers died from injuries they suffered at work. That works out to one U.S. worker dying every 2 hours from a work-related injury." It is estimated that over 80% of workplace accidents are caused by Human Factors.
The International Society of Safety Professionals, the ISSP, announced today that 2014 is the beginning of a new era in safety professional development. "Only by building capacity will we achieve sustainable reductions in workplace safety related loss," says D Smith, president of the ISSP. "We believe that our new development offerings for safety professionals, in line with a defined ISSP career track for safety professionals, will serve to improve capacity and achieve reductions in workplace safety related loss as never seen before."
As part of their initiative to bring greater collaboration and multi-discipline safety training to safety professional worldwide, the society is offering highly experiential training events designed for all high-risk operations, including transportation, oil and gas, construction, mining, and public safety. This initial course expansion will focus on those crucial skills needed to make safety professionals and their organizations more successful in reducing risk to their workforce and the people they serve. Participants can be assured that these new courses will count towards ISSP safety professional level certification, a program under rapid development by the Society.
The expanded course offerings include Fundamentals of Safety Program Management, Emergency Response Planning and Execution; Safety Risk Management with Human Factors implications; Creating and Sustaining Positive Safety Cultures in High Risk Organizations, Safety Root Cause Analysis, Safety Program Presentations and Facilitation, and Advanced Safety Program Management. For more information on these and existent ISSP Professional Development Opportunities, visit the ISSP at http://www.isspros.org.
The society also announced the addition of two key members to the staff of this non-profit organization. Nathan Predoehl, Executive Partner of the Mentair Group, with over forty years of experience, including some high-risk operations, whose former duties ranged from the operator to executive level, joined the board of directors. Sharon Grey, also with the Mentair Group, with over 1,100 safety and quality audits under her belt, joined the team as the new Director of Quality.