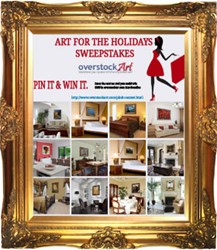 (PRWEB) December 20, 2013
overstockArt's Holiday Pinterest Sweepstakes includes only a few simple steps. First, users must follow the overstockArt Pinterest account in order to access the pins necessary for the contest. Next, he or she must create a Pinterest board entitled "overstockArt for the Holiday Sweeps" using his or her own account. The contest's promotional image, which can be found on the overstockArt Pinterest board, should then be pinned to the user's board, along with five favorite images from the overstockArt account. These images include a variety of well-decorated rooms, each displaying a painting from overstockArt.
After creating his or her personalized Pinterest board, users can submit their board to enter the contest by pasting the URL into the entry blank on the overstockArt website. Though each participant may only submit a board one time, he or she can receive more chances to win by sharing the contest with friends on other social media accounts like Facebook or Twitter.
The contest ends at midnight on December 31, 2013, and after that time one lucky recipient will receive a $500 gift card to use on overstockArt.com. The contest is a chance for shoppers to win high-quality, hand-painted art, but it is also a way for overstockArt to connect with its shoppers on social media.
overstockArt is an affordable online retailer of hand-painted oil paintings and reproductions of famous artwork. The site features paintings for homes, as well as wholesale discounts for restaurants, hotels and other commercial properties. overstockArt offers helpful customer service, a live chat feature, and fast, reliable shipping on any product.