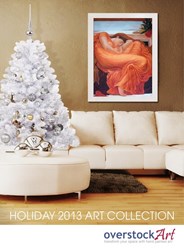 (PRWEB) December 19, 2013
The overstockArt holiday catalog is full of beautiful, high-quality images showcasing seasonal decorating ideas using paintings available at overstockArt. Each catalog page features a unique room outfitted with holiday décor, with the website's hand painted art pieces hanging in the background to show how one of these high-quality paintings can fit into any home.
The first section of the catalog is organized by styles of paintings in order to make it easier to choose the theme that a loved one will like best. Categories such as Paintings of Women, Paintings of Buildings & Architecture and Still-Life Paintings each feature a variety of pieces originally created by some of the world's most famous artists, including Van Gogh, Monet and Rembrandt. Later sections feature overstockArt's chosen New Artists, exposing shoppers to up-and-coming faces in the art world today. These pages include innovative works by painters like John Singer Sargent, Lisa Carney, and Alfred Sisley.
For shoppers who are looking for a more customized painting, overstockArt's catalog allows shoppers to commission artists to hand paint a favorite photograph or a particular piece of art that isn't already featured on the website. The catalog also includes a variety of frames to choose from to give the painting a look that both the shopper and the gift recipient will admire.
One of the premier online destinations for art replicas, overstockArt is an affordable online retailer of oil paintings and reproductions of famous works of art. The website features paintings for homes, as well as wholesale discounts for restaurants, hotels and other commercial properties. They offer helpful customer service, a live chat feature and fast, reliable shipping on any product.