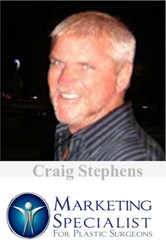 You are a Plastic Surgeon. Let me help you promote your name as a local expert in Plastic Surgery in all the media channels. I'm Craig Stephens, a Plastic Surgeon Marketing Specialist.
Key Largo, FL (PRWEB) December 24, 2013
Marketing Specialists for Plastic Surgeons, an professional full scale marketing agency specializing in the plastic surgery niche, will allow applicants to send in more than one application. This can be accomplished by sharing the contest with others and getting them to sign up as well http://freeplasticsurgerycontest.com/contest/.
Craig Stephens, founder and CEO of Marketing Specialists for Plastic Surgeons, "we loved the idea of giving contestants multiple chances to enter based on the amount of people they get to sign up. With every new person that they sign up, they can enter another story, another angle, which explains why they want a particular plastic surgery procedure performed."
"It's a pretty fantastic incentive that gets people motivated to share," he added.
The contest just got started on November 28, 2013, and will end when the agency receives 500 unique applications in each of the five cities. So to be clear one person may enter themselves, and then by sharing with others that also enter, they earn a second chance to tell their story and improve their chances. The contest will end when 500 different people enter.
There is also a second contest for each city. Here the contestant that has already had a procedure performed, tells her/his story of how that procedure effected their lives for the better and if chosen as the most compelling, will win a new procedure. The contestants are encouraged to use whatever media they can to add to their stories impact. Each contest ends, when that contest has 500 individual and unique contestants.
Just think, there is definitely a winner, the contest is only for your local area and there is only 499 others competing. Wow, great odds says Stephens. Early entries are encouraged.
The contest will begin in five cities nationwide and will move to others throughout 2014. Stephens wants folks to know that, this contest is quite beneficial to the surgeons, as they learn a lot from the stories. They use them to develop new procedures and expand their practices. It is a win, win situation for all.
About Marketing Specialists for Plastic Surgeons:
Florida-based Marketing Specialists for Plastic Surgeons is a company directly involved in developing marketing techniques for both the plastic surgery industry. The company is owned and operated by Craig Stephens.
For further information please contact: Craig Stephens, President, 305-879-5631, or visit the site: http://www.marketingspecialistforplasticsurgeons.com/.