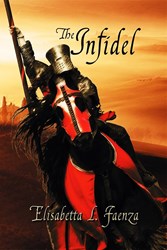 When your blood decides the fate of kings, better to die a lion than a lamb.
(PRWEB) December 19, 2013
Elisabetta L. Faenza's intriguing work of historical fiction is set against the backdrop of the religious wars known as the Crusades and reveals an untold story behind the fighting. It is a story of espionage, family tragedy, and an arcane labyrinth of secret orders that will enthrall readers.
As Gian struggles to find his family's killers, he becomes embroiled in the world of politics, greed, and treachery, before he discovers the truth about his heritage and the role he is to play in the fate of kingdoms.
Watch the video at: http://www.youtube.com/watch?v=yXbT_0V88Xk&feature=youtu.be.
About the Author: The daughter of an Australian schoolteacher and an Italian immigrant, Elisabetta L. Faenza was raised between cultures, and gained a love for language and story telling at an early age. She has a master's degree in international relations and a penchant for history. She began the research for her book over 25 years ago and is currently writing the sequel, Veritas. She lives near Braidwood, Australia, with her partner and four children, where she assists environmental and social enterprises, and indulges her love of the arts.
THE INFIDEL (ISBN: 978-1-62516-460-5) is now available for $21.95 and can be ordered through the publisher's website or at http://www.amazon.com or http://www.barnesandnoble.com.
WHOLESALERS: This book is distributed by Ingram Books and other wholesale distributors. Contact your representative with the ISBN for purchase. Wholesale purchase for retailers, universities, libraries, and other organizations is also available through the publisher; please email bookorder(at)aeg-online-store(dot)com.
Strategic Book Publishing and Rights Co, LLC