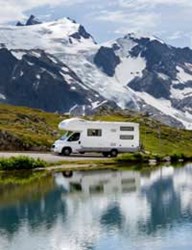 Once you have a motorhome or campervan you can take a mini break whenever the mood takes you. That doesn't have to be restricted to Summer.
(PRWEB UK) 19 December 2013
Camping isn't just about tents. It's clear from looking at the number of campervans and motorhomes on our roads today that a home on wheels is a massively popular option for the modern camper. Whether it's a battered old VW Camper or a state of the art Winnebago, choosing a new backyard every day of the holiday gives an enormous amount of freedom.
This steady increase of campers out on the road means that Summer camping can be a busy affair. Many campers now favour holidaying out of season, and Winter Touring is becoming ever more popular.
Recent trends in the type of camping people enjoy have shown a steady shift away from the more traditional tent camping holiday. Clay Cowie, director of worldofcamping.co.uk, said, "Although we've found in recent years that camping as a whole is increasing in popularity as an affordable holiday option, the caravan, and more notably the motorhome section of our business has taken an encouraging rise.
"People seem to catch the camping bug. It's infectious, and once you have a motorhome or campervan you can take a mini break whenever the mood takes you. That doesn't have to be restricted to Summer. A lot of our customers tell us they'll often take off on a road trip for the weekend on a whim, or in response to a good weather forecast. Even if it's chilly outside, a nice thick sleeping bag will keep you cosy inside your camper, and there's no hotel costs to worry about. Just make sure you've got enough butane for your camping stove, hop in your motorhome, and the world is your oyster!"
Winter Touring makes for a more relaxing drive on quieter roads, more space and fewer screaming kids at the campsite, less parking restrictions, and more opportunity for free camping.
Many people, especially those with smaller campervans, may choose the freedom of free camping, and most rural and beach car parks are free in the off-peak months. For those who prefer the security and facilities of a campsite, many are open all year round, and they are generally much cheaper than in high season. A Summer wind-out awning may not quite cut the mustard in the wind and rain, but there's a wide range of easy to put up and affordable awning (and fixing kits to attach to a rail or Fiamma wind out awning), providing a bit of shelter but still allowing alfresco dining in the great outdoors.
Campers may while away the long summer evenings chatting with the campsite neighbours over a nice glass of wine or a cold beer, but now the nights have drawn in, many people may pine for a television. And with the Winter Olympics looming it may be unbearable to miss any of the action - this year's Eddie the Eagle could be waiting in the wings as the next Olympic sensation. World of Camping have a great range of Avtex Quick Tuning TVs, including full HD and Satellite compatible models, to make any Motorhome a real home from home.
World of Camping are based in Cornwall as an online UK retailer of camping equipment, tents, caravan awnings, and accessories. Whatever you need to make a winter touring adventure complete, World of Camping have thought of it: from bike racks to electric hook-ups, from water and waste containers to solar chargers, inflatable kayaks, cookware, camping fridges, portable toilets and toilet chemicals, roof boxes and torches, all at the most competitive rates online.